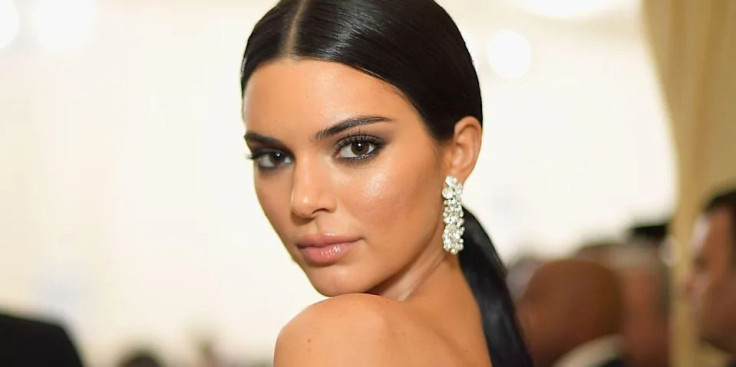 Kendall Jenner was captured in recent social media posts in a straddling position with an individual who is not Bad Bunny.
These posts were shared by her sister, Kim Kardashian, 42, who uploaded throwback Snapchat videos on her Instagram Story, featuring various members of their well-known family.
In the video, Kendall Jenner can be seen sporting a black graphic T-shirt that had a short length, barely covering her buttocks. Notably, she was not wearing any pants, although she had on a pair of light-colored panties.
The clip also captured the 818 Tequila founder playfully pushing Harry Hudson, a friend of the Kardashian family, against a wall. Kendall had her hands positioned on either side of his head and had one leg wrapped around his waist.
Harry Hudson was seen wearing a baseball hat and a sweatshirt in earth-tone colors, with the hood pulled up.
In the video, both Kendall Jenner, 27, and Harry reacted swiftly by turning their heads towards the camera, displaying a momentary expression of surprise or shock.
In the next frame, Kylie Jenner, 25, and Hailey Bieber, 26, looked surprised as they exclaimed, "Kendall?!"
Kendall is then seen moving away from Harry, slapping her thigh, and saying, "S**t" in a disappointed tone.
During the initial days of May, Kendall Jenner's relationship with her boyfriend Bad Bunny, 29, intensified when the Los Angeles Lakers defeated the Golden State Warriors in Game 6 of the Western Conference semifinals.
Kendall, known for her appearances on "Keeping Up with the Kardashians," wore an alluring white top and a skirt with a small size.
The Puerto Rican rapper, who at one moment gently brushed his fingers against Kendall's knee, sported a leather jacket and a flat-brimmed cap worn backward.
Despite wearing shades, the part-time WWE superstar-maintained eye contact with the Victoria's Secret model.
Both Kendall and Bad Bunny shared smiles as they locked eyes with each other.
At a certain point, the pair leaned in closer while the star of Hulu's reality series whispered into Bad Bunny's ear.
On an online Reddit thread, fans expressed their excitement over the evident chemistry between these two prominent celebrities.
"They honestly look cute together," one person gushed, The Sun reported.
Another added: "It's clear Kendall's into him in these pics. She seems comfortable with his hand on her thighs."
A third person agreed and mentioned: "Obviously, she wouldn't care if his hand touches her thigh."
"Awww! This is really cute," one user commented as another said: "They're drunk in love."
In a TikTok video that has been deleted, Kendall and the Puerto Rican rapper, known as Benito Antonio Martínez Ocasio, were seen enjoying the sun on a large lawn. Photographer Renell Medrano shared the 32-second clip, which has since been removed.
The video started with a member of their group walking onto the grass while holding a gold club.
A man standing by a bar in the huge garden was heard saying: "Alright, here's what we'll do, I'll play you... whoever's closest, the other guy's doing tequila shots."
The camera then shifted back to the man preparing to take the shot, while another person cleared some outdoor furniture from the area. It is uncertain whether they were actually at a golfing resort, but the scenery appeared breathtaking, with clear blue skies.
As the camera rotated, it captured Bad Bunny in a chair, relaxing without a shirt, while Kendall stood next to him. Kendall was dressed in a small bikini top, paired with loose-fitting black shorts and sunglasses.
© 2023 Latin Times. All rights reserved. Do not reproduce without permission.