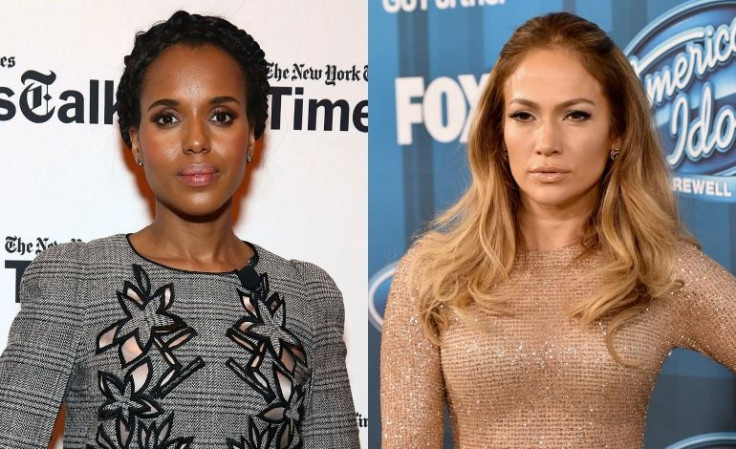 Kerry Washington is stoked to talk about the upcoming sixth season of "Scandal," but she's more excited to talk about Jennifer Lopez! Washington was recently on "The Tonight Show Starring Jimmy Fallon" talking about her hit show, but she was also there to reveal some interesting anecdotes.
After being praised by TV host Jimmy Fallon for her killer dance moves, the 39-year-old actress from The Bronx, NY could not help but to talk about her beginning days in dance class.
"I've been taking dance for a long time, since I was a lil girl," she said. "I use to go initially just for the candy that they gave at the end of class... but then I continued to dance," she added, stating that she had a very inspiring teacher called Larry Maldonado. "And he had an awesome substitute teacher who would sometime step up and teach," she continued. "But she left to move to LA and be on 'Living Color,'" she hinted, before Fallon quickly asked: "Jennifer... the Jenny from the Block?"
Washington immediately fessed up and said that she learned to dance from the one and only Lopez. "I learned how to dance from JLo, so that explains everything," she said. "That's why I'm a really good dancer. It was meant to be that I would be famous," she said, revealing that there are many cool things about her but receiving dance classes from J.Lo was the best.
Earlier this month Lopez dropped her new single on iTunes along with a lyric video. "Ain't Your Mama" is the first single that the Puerto Rican star will release through her recently signed deal with Epic Records. After releasing her 2014 album "A.K.A." under Capitol Records, it was revealed that Lopez cut ties with the label and returned to Epic Records.
© 2023 Latin Times. All rights reserved. Do not reproduce without permission.