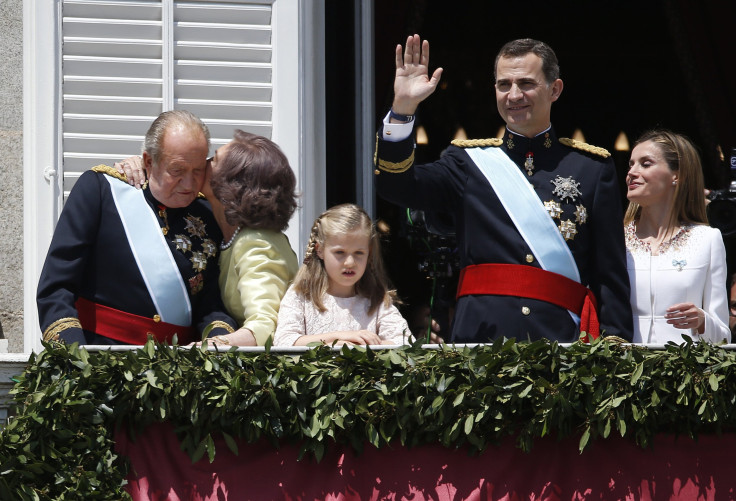 Rumors about the former King Juan Carlos and Queen Sofía of Spain divorcing, have been plenty since Juan Carlo's throne abdication to his son Felipe, in June. Sources say the split, although kept hidden until now, is long over due and the abdication is only "speeding things up" for the couple that's been married for 52 years. According to 'El Universal' newspaper, they have been living separate lives for many years and only see each other at official events. The royal couple has not been seen together since the abdication, where they barely spoke to each other.
The couple spent the summer separately while Queen Sofia was seen at their Marivent Palace in Mallorca with her children and grandchildren on several occasions, King Juan Carlos traveled to Colombia for the inauguration of President Juan Manuel Santos and was in Granada, supporting the Spanish national team in the Basketball World Cup.
The former king and queen's relationship has been tormented by rumor's of the king's affairs several times but in this case, it has been said that he has been living with his lover, German socialite, Corinna Sayn-Wittgenstein, for the last 20 days, or so. The couple had been denying the rumors while Sayn-Wittgenstein kept telling the press, "The King and I are good friends." Except last summer, Juan Carlos fractured his hip while hunting elephants in Africa and it turned out his traveling companion was none other than Corinna Sayn-Wittgenstein.
Juan Carlos allegedly plans to marry Corinna as soon as he's divorced, leaving Sofía without a royal Spanish title, as she earned that through marriage. The royal palace said this is a private matter, which will be kept as such, and refused to comment.
© 2023 Latin Times. All rights reserved. Do not reproduce without permission.