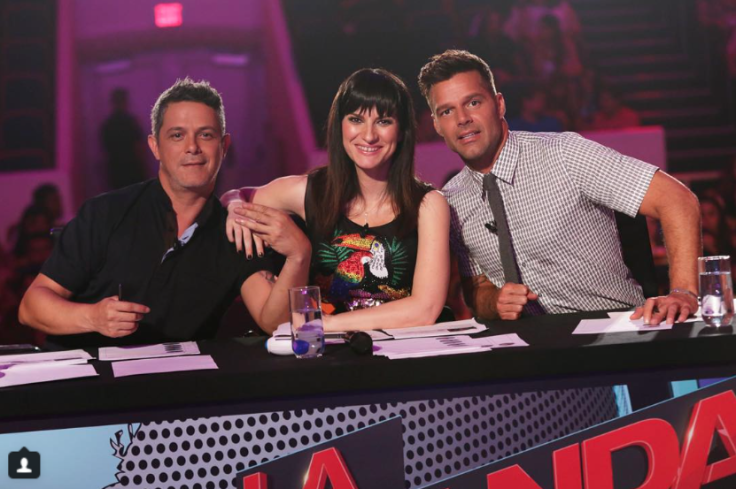 After auditioning thousands of boys from all over Latino America, judges Ricky Martin, Laura Pausini and Alejandro Sanz have managed to narrow it down to 12 talented finalists that will have to leave their hearts and souls on the stage of "La Banda" on Sunday night in order to keep their spot in the competition.
During the live performances, Richard Camacho, Erick Brian Colón, Joel Pimentel, Zabdiel de Jesús, Jaime Cruz, Sebastián Rivera, Joshua Greaux, Kevin González, Yoandri Cabrera, Aaron Boden, Johann Vera and Christopher Vélez will have to prove that they have what it takes to be a part of the biggest Latino boy band the world has ever seen.
"We have a managing team and there are a lot of people that are working intensely and we have people that have worked with One Direction for example and Fifth Harmony," Ricky Martin told Latin Times. The Puerto Rican superstar, who will lead the managing team as Band Manager, added that the boys will have to step their game up during this phase of the competition in order to show the audience, who will now have the chance to vote for their favorites, that they can be entertainers, "I'm looking for entertainment and I think the audience is looking for entertainment. Entertainment as in yes, great vocals, great corporal expression, great attitude, they need to give their all. There's no time to waste at this point. It's all or nothing."
Martin, who happens to be the only judge with a "Boy Band Member" title under his belt, confessed he sees a little bit of himself in each and every one of these boys, "It's an incredible experience because I am living through them all, you know. I see a little bit of myself in each and every one of them."
Latin Times asked both, Ricky and Laura Pausini, to pick 3 adjectives that would best describe their role as judges throughout the competition and interestingly enough, they both picked the same three: honest, nurturing/motherly and demanding.
Without revealing much about this new and exciting phase of the reality show, Laura shared a few details about the upcoming dynamics and what people can expect from the boys' performances, "Since the very first night of the live performances, you will see that it ends with the formation of a new band and the people at home can start voting and they can eliminate one of the boys. We will bring them together so they will perform as a group and also individually, and then we'll evaluate their performances taking into consideration what they've given us in previous episodes and their live performances, which will be totally different because emotion will come in this time and that's what will give us the final result. A lot of them will break, and they will have to prove that they are prepared and made artists."
During our interview with the Italian songstress, she realized that neither of them have actually put any thought into possible band names but she mentioned that she was going to run to Ricky and Alejandro's dressing room to discuss the subject as soon as she could, "Uhmm, you know, I thank you for that question because I haven't thought about it until now. Wow. Uhmm, I have no idea! It's hard because I would want it to be just one word that can be immediately identified as Latina. Being Latino is having the same soul and so, I think that maybe the word "Alma" could fit in there somehow. I don't know! I'm curious now. I want to go knock on Alejandro's and Ricky's door to tell them 'Let's pick the name of the band right now!'"
Pausini revealed that the audience will not only be in charge of selecting the 5 members of "La Banda," they will also get to pick the band's name once the judges come up with some cool options. We can't wait! In the mean time, don't miss "La Banda: Live Performances" this Sunday at 8PM on Univision.
© 2023 Latin Times. All rights reserved. Do not reproduce without permission.