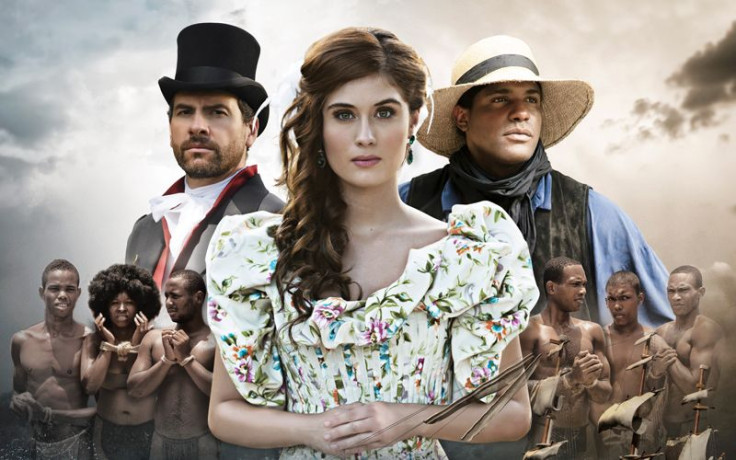 Telemundo is premiering a new telenovela in primetime called "La Esclava Blanca." The Colombian import stars Nerea Camacho, Miguel de Miguel, Orian Suarez and Modesto Lacen. This new production is bringing a fresh cast into the night time block at the Spanish-language network, something that is always appreciated. Camacho is a Spanish actress that at the age of 12 became the third youngest actor to win a Goya Award. In this new soap, she plays Victoria Quintero, an indomitable white woman with the heart and soul of a rebellious slave. Audiences will find a familiar face with Miguel de Miguel from "La Reina Del Sur." This soap will mark his comeback to Telemundo as Nicolás Parreño, an unscrupulous and ambitious businessman who will do anything to keep his hold on power and money.
Other actors include Cuban-born Orian Suarez as Miguel and Modesto Lacen as "Tomás." Viewers will remember Lacen as Pedro Knight in the bio-pic series "Celia." This stellar cast will be joined by Luciano D'Alessandro, Miroslava Morales, Ricardo Vesga, Viña Machado, Andrés Suárez and Natasha Klauss and many more. "La Esclava Blanca" looks to have excellent production values and will bring us a high-quality epic telenovela. We are all in for a treat with this production that has been a hit in Colombia. "La Esclava Blanca" is set to premiere on Monday, April 18 at 9pm ET/PT, taking over "Eva La Trailera," which moves to 8pm ET/PT on that same night. Read the official synopsis and tell us what you think about this new series!
SYNOPSIS: "La Esclava Blanca" ("The White Slave") narrates the story of Victoria, a woman who everyone knows as a marchioness who arrived in America to marry a prosperous merchant from the region. However, the actual truth is that years back, in that same city, she was rescued from near-death and raised in secret by slaves who became her family. She was taken from the arms of her loved ones and sent to Spain, because according to the society of the time, a white woman could not live with slaves. Victoria is an indomitable woman and she will come back pretending to be someone else to seek justice and liberate her family. This woman is determined to face anyone who gets in her way to free her loved ones from slavery, confront her parents' killer and reunite with the love of her life. For Victoria, everyone is the same color, which is why she won't rest until she claims justice and becomes a true heroine.
© 2023 Latin Times. All rights reserved. Do not reproduce without permission.