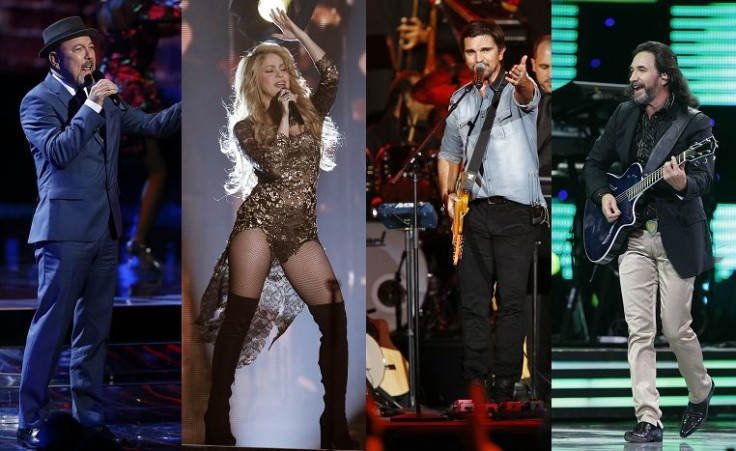 La Musa Awards 2016 nominations are here! The Latin Songwriters Hall of Fame announced the nominees during a press conference at the Cubaocho Museum & Performing Art Center in Miami on Thursday. Among the artists and celebrities who assisted the event were: Yotuel, Beatriz Luengo, Louis Amati, Alicastro, Cachita Lopez, Richard Jay Alexander, Chairman and CEO Desmond Child and President Rudy Pérez.
Latinos everywhere will have the opportunity to become members of the Latin Songwriters Hall of Fame by registering at www.larinsonghall.com. The registration, which is free of charge, will give users the chance to vote for their favorites from January 28 until March 15 at midnight.
The list of Latino composers considered to be new inductees of the Latin Songwriters Hall of Fame will be revealed during the Latin Billboard press conference week in Miami Beach. The fourth ceremony of La Musa awards will be held at the Fillmore Miami Jackie Gleason Theatre on October 13. Scroll down to read this year's full list of nominees.
PERFORMERS - (SINGER-SONGWRITERS)
Alejandro Lerner – Argentina
Caetano Veloso – Brasl
Juanes – Colombia
Shakira – Colombia
Chucho Valdes - Cuba
Joaquin Sabina – España
Jose Mara Cano – España
Marco Antonio Solis – México
Los Temerarios – México
Ruben Blades – Panamá
Draco Rosa – Puerto Rico
Vico C – Puerto Rico
NON-PERFORMERS - (SONGWRITERS)
Claudia Brant – Argentina
Chico Novarro – Argentina
Erasmo Carlos – Brasil
Kike Santander – Colombia
Jorge Luis Piloto – Cuba
Alejandro Jaen – España
Jose Enrique (Chelique) Sarabia – Venezuela
Carlos Lara – México
Miguel Luna – México
Cheo Zorrilla – República Dominicana
Luis Fernando Ochoa – USA
K.C Porter - USA
© 2023 Latin Times. All rights reserved. Do not reproduce without permission.