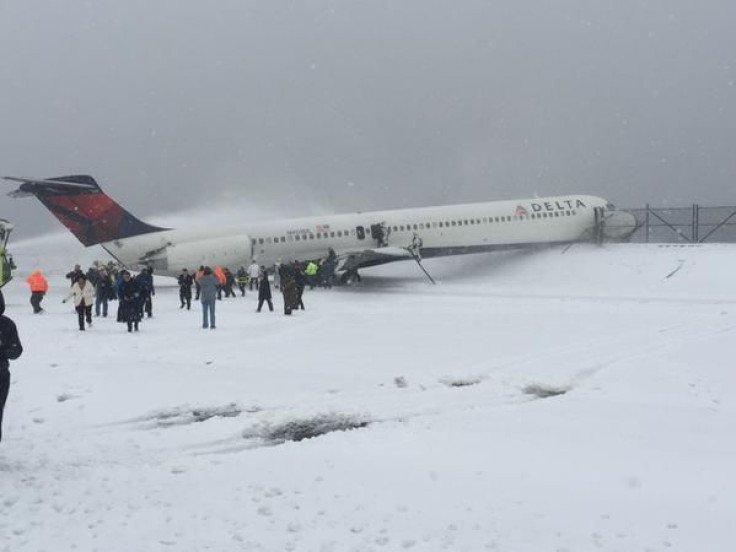 Extremely snowy conditions caused a Delta flight carrying 125 passengers and five crew members to lose control and skid off the runway at LaGuardia Airport. The aircraft did not stop until it violently crashed through a chain-link fence, which sheared off its right wing. The shocking incident occurred at the New York City airport at approximately 11:10 a.m. Thursday morning. According to first responders from the New York Fire Department, injuries thankfully appear to be minor.
Video coverage of the incident also caught passengers of Delta Flight 1086 emerging from the damaged aircraft via inflatable slides. Shuttle buses reached the runway to safely escort the passengers back to the terminal.
"Our priority is ensuring our customers and crew members are safe," announced Delta Airlines in a press release that followed the LaGuardia crash. "Delta will work with all authorities and stakeholders to look into what happened in this incident."
According to New York-New Jersey Port Authority spokesman Joe Pentangelo, the Delta aircraft, a McDonnel Douglas MD-88 airliner, was apparently leaking fuel on the runway after the crash.
The New York LaGuardia Airport closed immediately after the incident to control the situation. According the FAA, LaGuardia Airport is expected to reopen at 6:59 p.m. EST this evening.
"Travelers with flights scheduled to arrive and depart from the airport should check with their carrier to determine the status of their flight," the Port Authority of New York and New Jersey said in a release. "The Port Authority will provide more information as it becomes available."
Be sure to check out Twitter user @steveblaze98's amazing photo of the Delta crash land below. Also, don't miss the news video coverage of the Dela flight crash :
© 2023 Latin Times. All rights reserved. Do not reproduce without permission.