If one goes back to the Los Angeles Lakers' previous NBA season, it was clear that the team had no one to turn to when their top starts are forced out due to injury.
LeBron James and Anthony Davis remain the top dogs for head coach Frank Vogel. When one is unavailable, the guessing game on who will step up comes not long after. But this 2201-22 NBA season, it appears that problem has been addressed, probably more than what the Lakers bargained for.
After struggling in his first few games with the Lakers, Russel Westbrook finally broke out of his shell against the San Antonio Spurs. With James sitting out, the former NBA MVP stepped up big time and helped the Lakers in their overtime victory over the Spurs.
Of course, Davis also played a key role in the win. This was despite harrowing moments where the All-Star center was getting hurt.
Westbrook has been known to have the ability to carry a team on his shoulders. He did it with the Oklahoma City Thunder, the same season he won the MVP plum. In all, Vogel now has a guy he can turn to when James and/or Davis is injured.
"Last year, we lost Bron and AD for a long stretch and we didn't have enough to sustain throughout the regular season and to win in the playoffs and to get a guy like Russ, if one of those guys is down, we got another guy that can put up a monster night like we saw tonight paying early dividends in acquiring Russell," Vogel said.
Of course, Westbrook was not the only one who stepped up. There was also Malik Monk who did his share for the Lakers against the Spurs.
But what happens once James returns? Will Westbrook grope for form once more? Vogel is not a bit worried. Like Davis, he urges the 32-year-old to just play his game and adjustments will follow.
"The way he played tonight was incredible and we need that from him every night, no matter if Bron is playing or not, or if I'm playing or not. Be yourself and we'll find ways to kind of adjust around him," the Lakers coach added.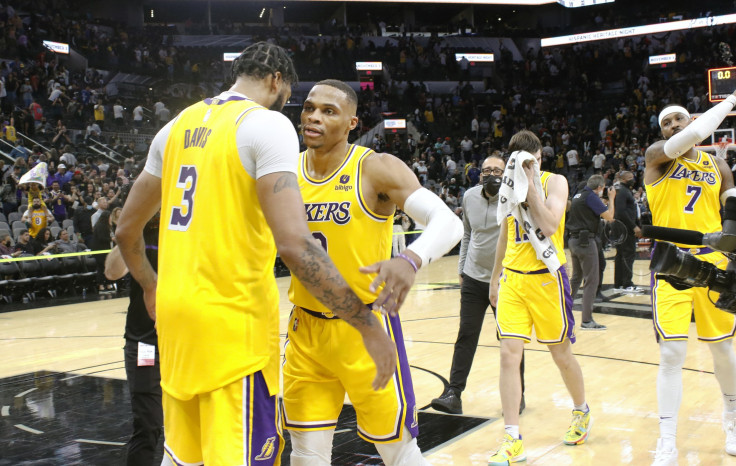 © 2023 Latin Times. All rights reserved. Do not reproduce without permission.