Two people were reportedly killed with dozens more still missing after a landslide swept an entire section of a highway in southern Brazil on Monday. Heavy days of rain in the state of Panama brought in a torrent of mud and debris that came rushing down the steep hillside that runs along both sides of highway BR 367.
According to Yen.com, a huge chunk of the highway broke off sending around 20 cars and trucks on the highway into a tussle of brown mud that ravaged everything in its path downhill. Search and rescue efforts have been quite difficult for rescue workers due to the remote location of the site and bad weather making things even worse. Rescue teams have been using drones with heat-detecting cameras to look for survivors but only two dead bodies and six survivors have been pulled out from the muck. One of the survivors included the mayor of Guarataba, Roberto Justus.
"It was horrible. The mountain just fell on top of us. It swept away every last car. We're only alive by the grace of God, " the mayor said in an interview.
Meanwhile, as local emergency response teams are pulling every means to reach victims, much concern has been raised about the possibility that there could be more landslides occurring with heavy rain warnings being sent out for multiple states in Brazil.
Authorities have not confirmed the number of possible victims but local emergency response chief Manuel Vasco said it would be difficult to determine the exact number of people that may have been swept away.
"A vehicle could have one to five people inside. We're working with an estimate of 30 to 50 people missing," Vasco remarked.
Brazil is no stranger to deadly landslides. Early this year, 200 people died in a series of landslides in the southeastern tourist town of Petropolis after a month's rainfall fell in just three hours. In Sao Paolo, 19 people died and 500 families were left homeless in landslides that tore through a community back in January. The heavy rains started in December last year and seemed to have carried on over the new year which triggered deadly floods in northeast Brazil.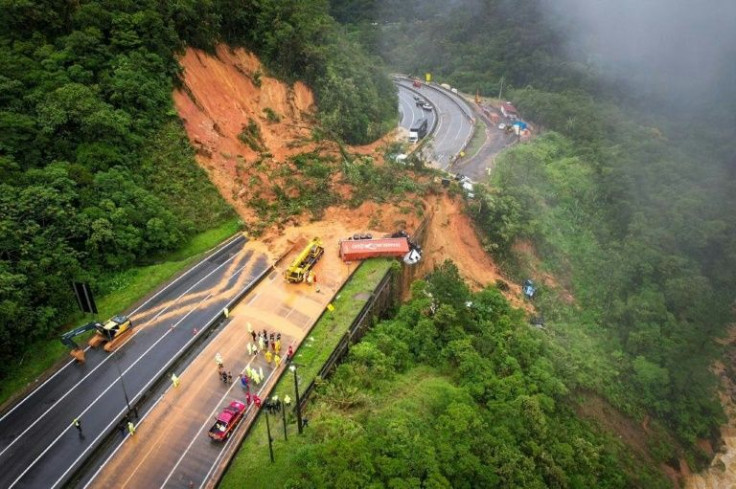 © 2023 Latin Times. All rights reserved. Do not reproduce without permission.