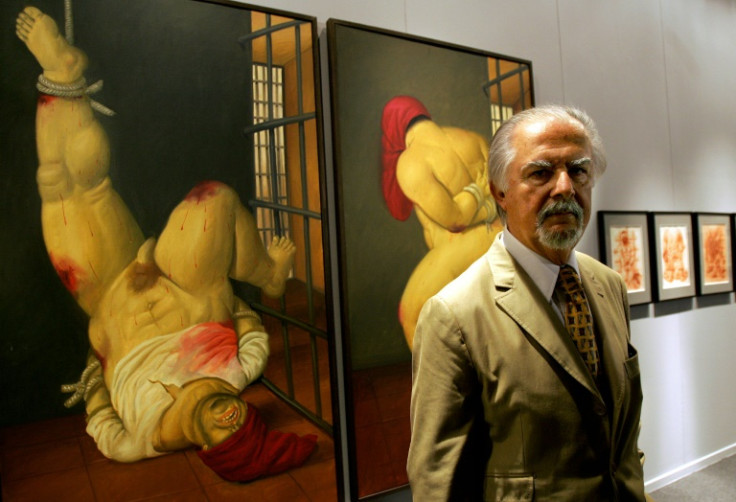 In the morning of this Friday 15, the world heard the news of the death of Fernando Botero, one of Latin America's greatest artists. His daughter Lina Botero was in charge of letting the world know, through Caracol Radio Station, that her father had "stopped being part of this mortal world" due to complications of pneumonia.
Botero's voluminous and monumental figures of bronze and marble -- materials with which he experimented from the 70s -- made him one of the most recognized modern artists. Audiences could identify his work with just a glance at his spherical sculptures displayed in any square on the planet to the delight of the public.
His exaggerated and curvilinear style of representation became his distinctive signature, prompting critics to voce diverse elucidations about them: "When he moved to New York in 1960, Fernando Botero had already developed his signature style, which is part of an artistic tradition and yet entirely his own: the depiction of round, corpulent humans and animals – his paintings and sculptures united by their proportionally exaggerated figures. His Rubenesque humans, rotund landscapes and voluptuous vases are so identifiable that they are practically a trademark." explains Jeronimo Martins World's Magazine.
Botero himself pointed out that the reason for his exaggerated figures responded more to an aesthetic choice and search than to any other camouflaged reason. The Joyofmuseum declares that "His signature style is known as "Boterismo," which depicts figures in large, exaggerated volume, which can represent political criticism or humor, depending on the piece."
Regardless of any interest in an erudite audience, Botero was an artist who sought through his instantly identifiable figures to bring artistic pleasure to the world beyond the museum elites. His work was spread through countless plazas, parks and gardens, bringing with these huge figures a particular vision of the beauty that imbues Latin American and Colombian Art. Commuters and tourists would find his sculptures on any daily walk through the parks of Spain, in Barcelona and Madrid; Germany, Singapore or in the Garden of the Museum of Jerusalem, Israel, as well as Medellín or Buenos Aires.
"I am interested in working with volume as an aesthetic element. Giotto reinvented volume and perspective in art. The Greeks also used it, but it was eventually lost and painting became flat. Volume has always interested me, and in this century everything is done in an exaggerated and radical fashion. That's how my style came about. The sculptures that I created later were a very natural step.¨ he said in a 1999 interview with ARTNexus Magazine
Critics point out that his global recognition was even more relevant due to his humble origins. Despite being a larger than life player in the art world and one of the best paid artists (Sothebys described him as "Perhaps the most famous contemporary Latin American artist alive"), Botero he was an artist who never stopped serving his anonymous public. In retribution, he never forgot these audiences for who he made generous donations, especially in his beloved Colombia.
According to esperapública.com, "in 2000 alone Fernando Botero donated 123 works to the Luis Ángel Arango Library in Bogotá and 137 works to the Museum of Antioquia. In total, 260 works by Fernando Botero were donated to these institutions." As mandated by Botero himself, the works must always be exhibited in the rooms that the artist approved. The donations cannot be modified or their pieces borrowed without the authorization of the artist. Botero said: "Knowing that these paintings are now here, in my country, available to everyone, gives me a pleasure far superior to nostalgia and it's more than justified."
In the 1999 interview with ARTNexus Magazine, Botero artist reminisces about the difficulties he faced at the beginning of his career, both because of his humble origins and the fact that as with any other Latin American artist he lacked representation.
"The beginning was difficult because I didn't come from a well-to-do family and because in Colombia to be an artist was a very exotic profession. When I began to paint in the '40s, the people involved in that world led a difficult life. In general, the artists were doing rather poorly. A few earned minimum salaries teaching drawing at some schools. No one bought a picture. In general, you couldn't make a living from painting. People didn't think of showing outside of Colombia or even of having a dealer. I was the first Colombian artist to somehow give a status to the profession, that is, once I began to show regularly on an international level," he said.
Many years later he became one of the highest-paid living artists in the world, but he never lost his unstoppable drive and his work ethics. It could be said that Botero, despite having managed to conquer the most elitist and wealthy spaces in the artistic field, never ceased being a great hard-worker. In this morning interview with BLU Colombian radio, his daughter, Lina Botero, referred to the strong discipline of his father who, even during a birthday, vacation or Christmas, used to work in his studio. Even this last week, he was working on several sketches despite having been very sick.
© 2023 Latin Times. All rights reserved. Do not reproduce without permission.