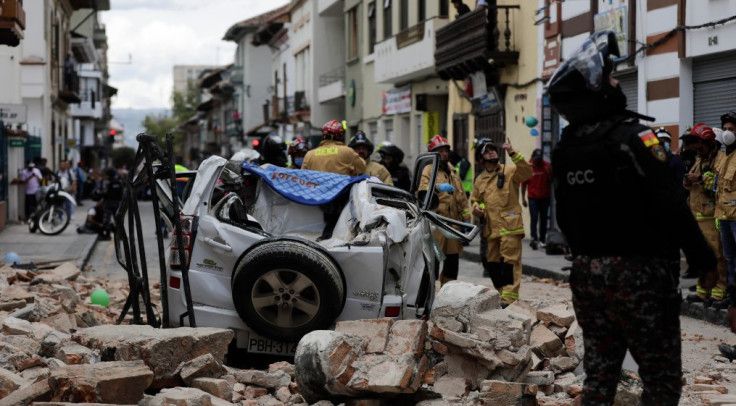 A 6.7-magnitude earthquake that hit Ecuador's southern coast has left at least 15 persons dead and more than 400 injured.
When the earthquake struck at around noon local time (17:00 GMT), buildings were damaged in several towns.
Authorities reported that El Oro province in the south was the worst impacted, with 12 fatalities reported there.
The earthquake was felt in northern Peru, and a 14-year-old girl was killed when her house fell in the border province of Tumbes.
Machala and Cuenca in Ecuador were two of the cities where buildings and automobiles were damaged as emergency services raced to assist people.
The epicenter was close to Balao, which is located 80 kilometers (50 miles) from Guayaquil, Ecuador's second-largest metropolis with a population of about three million.
"We ran from the house," Machala resident Exon Tobar told the BBC.
"The ground - it was a very powerful explosion - it made it shake and it made the electric cables, the windows, and everything move. People were in the streets praying because it didn't stop," Tobar added.
As officials evaluate the damage, President Guillermo Lasso urged Ecuadorians to maintain their composure.
To speak with some of the injured people, he also went to a hospital in Machala.
According to the government, more than 250 injured people received medical attention in the El Oro town of Pasaje, and nearly all of them were ultimately released.
Authorities reported that numerous homes, educational facilities, and health centers had sustained harm in addition to several roads being blocked by landslides.
One person was reportedly killed in Cuenca, Azuay province when a wall fell on their vehicle, and three people perished on Jambel Island, El Oro province when a security camera tower collapsed.
Several other towns, including Manabi, Manta, and the capital Quito, have reported feeling the quake as well.
This earthquake is the most powerful to strike Ecuador since the one in 2016 that left nearly 700 people dead and thousands wounded.
© 2023 Latin Times. All rights reserved. Do not reproduce without permission.