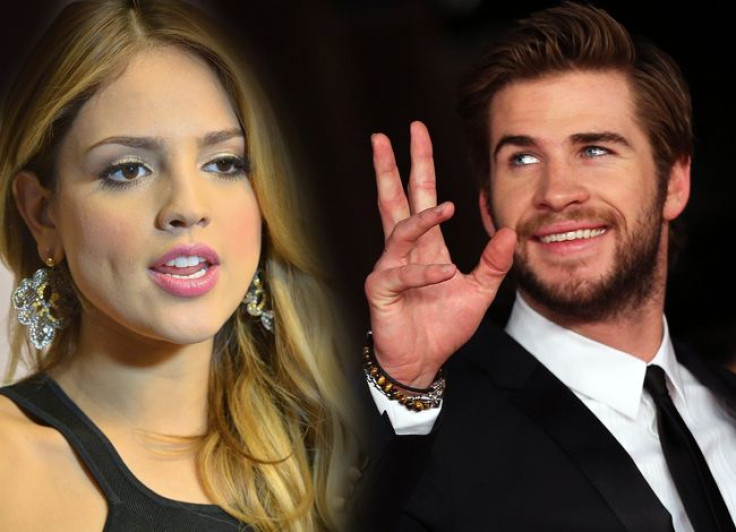 Liam Hemsworth has confessed that he is single! "The Hunger Games" star had been linked to Mexican actress Eiza Gonzalez after the couple was spotted in Las Vegas canoodling. All this happened when news broke that Liam's engagement with Miley had been called off. Gonzalez and Hemsworth were spotted in a sin city club flirting with each other the whole night and leaving the spot together around 2 in the morning. A couple of days later the couple was seen at Eiza's home kissing after dropping off a piece of luggage. During a sit-down interview with Extra, a reporter asked the Australian actor if he cooks for his lady. "I don't have a lady at the moment," he replied.
Liam Hemsworth might not be engaged to Miley Cyrus anymore, but he still has a lot of positive things to say about her. "I'm extremely happy for all of her success," he gushed. Cyrus has been extremely controversial in the last couple of months causing a scene everywhere she goes. A short time before their breakup, she took the 2013 MTV Video Music Awards by storm, "twerking" in a very provocative manner with a skimpy outfit that shocked the world. Just this past weekend the "Wrecking Ball" hitmaker stunned viewers once again when she hit the stage to accept the "Best Video" award at the 2013 MTV Europe Music Awards. Cyrus lit up a blunt and smoked it on stage, the bit proved to be so intense that MTV USA decided to censor the moment and cut it off their telecast.
Liam's support for Miley comes after it was revealed that the former "Hannah Montana" star still has feelings for her ex-fiance. "As time has gone on and the anger subsided, Miley has really started to feel the pain of the split," a source revealed to The Sun tabloid. "She thought about writing some songs, but then decided why not write a letter to Liam to tell him exactly how she feels." The insider added, "Miley says in her letter she still loves Liam deeply and has asked him to meet up. It could be for closure or it could be to start again, but she wants to see him and talk things through."
Eiza Gonzalez might not be dating Liam anymore, but she is doing pretty well for herself. Just this week the starlet returned to Twitter a few days after she announced she was leaving for a while. Her return was to promote her new gig on the television series "From Dusk Till Dawn," an adaptation of the Robert Rodriguez film of the same name. Previously she had directed a message to her followers on the social network, thanking them for all their support. "You guys are the best. I cannot explain the love that give me the happiness that provokes me! Love you forever and thank you for the support." WATCH Liam gush about Miley down below and tell us if you think he will get back together with his former fiancée!
© 2023 Latin Times. All rights reserved. Do not reproduce without permission.