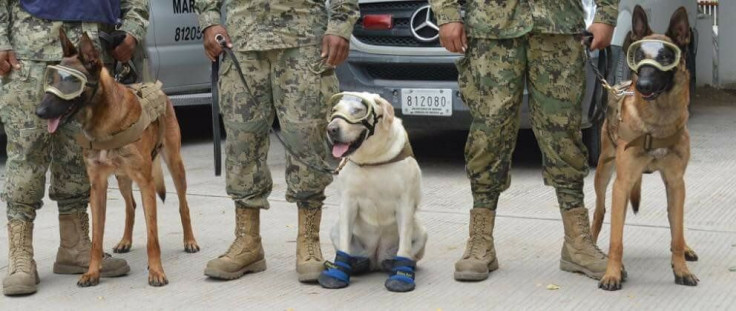 The lives of potential survivors of Mexico's earthquake could be at the mercy of Frida, Eco, and Evil, the three rescue dogs that through their acute sense of smell have been able to find people trapped in the rubble.
Frida is a veteran Golden Retriever of the Mexican Navy who has not only assisted in rescue missions in Mexico, but also in other countries. Frida was in charge of looking for survivors in the collapsed school Enrique Rébsamen, and along with her, two other dogs, the Belgian shepherds Eco and Evil, are part of the canine binomials trained by the Canine Section of the Headquarters of the High Command of the Semar.
The Mexican Navy deployed 20 dogs in total, but without diminishing credit to the others, these three have conquered social media. According to reports, the dogs together have located more than 50 people buried in the rubble.
The Navy informed to the reporters currently covering the disaster area in Mexico City, that Frida, 6, is the most experienced member among her other canine companions, as she has participated in disasters such as mudslides in Guatemala, the earthquake of Ecuador and the fire in the tower of Pemex.
All dogs working on rescue tasks are carefully protected, and have their own equipment including special lenses that protect their eyes from smoke, dust or toxic substances, boots and a harness in case they have to ascend and descend with the help of a cable.
On September 19, 2017, the National Seismological Service reported an earthquake in Mexico of 7.1 magnitude located in the state limit between the states Puebla and Morelos, about 7.4 miles southeast of Axochiapan, Morelos and 74.5 miles from Mexico City.
The National Civil Protection, reported that the death toll for the 7.1 magnitude earthquake rose to at least 286. The epicenters of the earthquakes were in Axochiapan, Morelos, and Chiautla, Puebla. They also reported that Mexico City registers the largest number of victims, with 148 deaths, while in the state of Morelos, 73 were reported to have died.
Luis Felipe Puente, National Coordinator of Civil Protection of the Ministry of the Interior, also informed that veterinary hospitals of the National Autonomous University of Mexico are offering free care to animals affected by the earthquake.
Searchers will keep looking for faint voices in the rubble, and using trained dogs and their hands to reach any survivors.
"Thousands of members of the Army, Navy and Federal Police are assisting the population," Mexican president, Enrique Peña Nieto, said in a statement. "We are in full coordination with the civil protection bodies, with the Chief of Government of Mexico City and the governors of the States of Mexico, Guerrero, Morelos and Puebla, the entities that suffered the greatest damages."
NOTE: The information contained in this report should not be considered final.
© 2023 Latin Times. All rights reserved. Do not reproduce without permission.