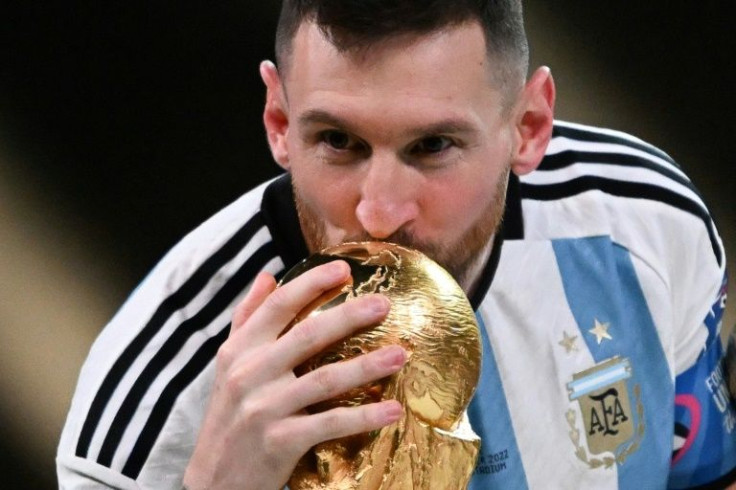 Lionel Messi revealed that he regrets his testy exchanges with the Netherlands coach and players during their controversial World Cup quarterfinal in Qatar.
After winning the World Cup trophy in Dec. 2022, Lionel Messi gave his first interview to radio Urbana Play of Buenos Aires. During the interview, the Argentina captain spoke about the feisty clash with the Dutch during the World Cup quarterfinal. Argentina managed to qualify on penalties after a tense game. A record number of 17 yellow cards were issued during the match, including one to Messi for dissent, MARCA reported.
During the game, when Messi scored from the spot in regular time, he stood in front of Dutch coach Louis van Gaal and cupped both hands to his ears. After the game, he also gesticulated to the Dutch bench and insulted striker Wout Weghorst, who scored twice in regulation.
"Keep moving, idiot," Messi told Weghorst in the tunnel.
However, during the interview, Messi admitted that he is not pleased with what happened with the current Manchester United striker.
"I didn't think about it, it came out in the moment," Messi said of the incident with Weghorst.
"I don't like what I did, I don't like what happened afterward," Messi said. "These are moments of a lot of tension, a lot of nerves. It is very quick and people react the way they react. Nothing was planned, it just happened."
Before the quarterfinal started, Dutch coach Van Gaal said that his players were better prepared than their rivals for a penalty shootout. He also said that "Messi did not touch the ball" in the semifinal between the teams in the 2014 World Cup. Argentina won that match in a penalty shootout as well, Associated Press News reported.
Messi said his teammates told him what Van Gaal said before the match started to stimulate him.
When he was asked about his moment with Weghorst, Messi said it was "natural."
"I reacted that way. There had been many things with this player, moments of tension like these . . . I was at the mixed zone, it had just happened," Messi said. "I don't like to leave that image, but these things happen."
© 2023 Latin Times. All rights reserved. Do not reproduce without permission.