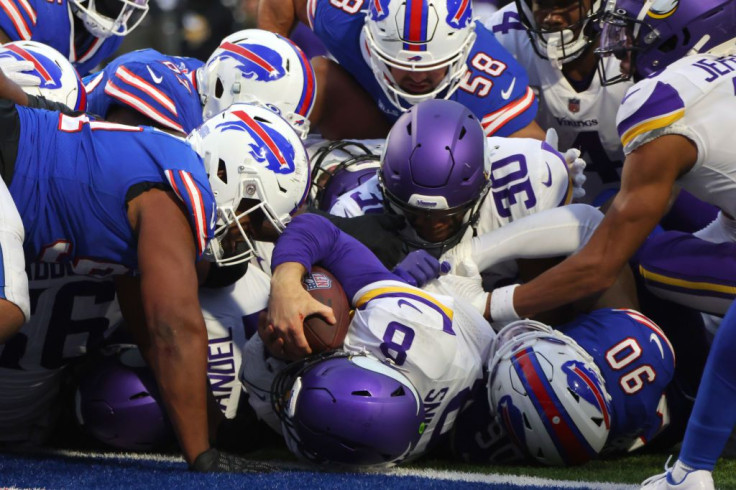 The NFL will continue its tradition of football on Thanksgiving this year once again. Football and turkey have always gone hand-in-hand and this year will be no different. With three games on the schedule this holiday, there's a lot to be excited for.
Here's what to watch for on Thanksgiving this year:
1. Can The Bills Find Consistency? (at Detroit, 12:30pm ET on CBS)
The Bills are in a bit of a rough patch, by their standards. They are 2-2 in their last 4 games with the two defeats being tough finishes in which they lost by 3 points each. This will be their second game in a row at Detroit, since their last game was reloacted due to a snowstorm in Buffalo.
The Bills still have Super Bowl aspirations and their matchup against the Detroit Lions this Thanksgiving could help them right the ship. Buffalo is tied in first place with the Dolphins making this a big game for them. The Lions are riding a 3-game win streak and looking to make it 4 in a row for the first time since 2016.
2. NFC East Showdown (Giants at Eagles, 4:30pm ET on Fox)
The NFC East has been one of the best divisions in football this year. The Philadephia Eagles, are in first and have the best record in football at 9-1. Their opponent, the New York Giants, have been one of the biggest surprises in the NFL at 7-3 and are looking to make a statement on Thanksgiving, despite coming off a loss against the Lions in Week 11. It's a key matchup that could have huge playoff implications. This division will likely go down to the wire, but games like this will play a huge role in their playoff seedings.
3. Can the Vikings Bounce Back? (vs. Patriots, 8:20pm ET on NBC)
The Vikings are coming off their ugliest loss of the season to the Cowboys, where they were blown out 40-3. Their opponent is the New England Patriots, who are coming off a huge but ugly win over the Jets last week. The Vikings essentially have the NFC North locked up but want to prove they are legit Super Bowl contenders. This matchup against New England will give them a chance to add another solid victory under their belt and move on from the horrible loss against Dallas.
© 2023 Latin Times. All rights reserved. Do not reproduce without permission.