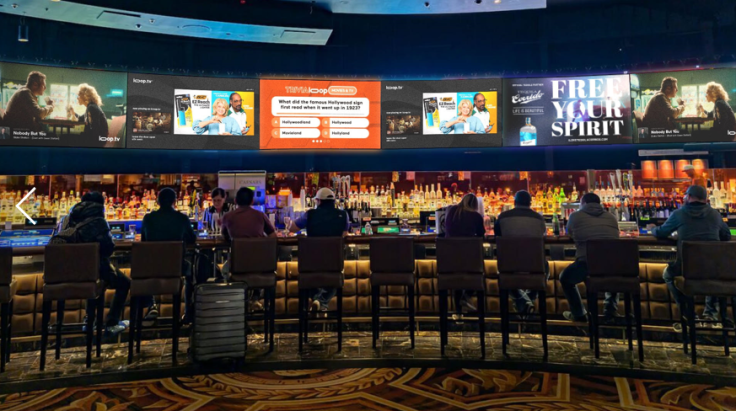 Loop Media, a multi-channel streaming platform for businesses and venues, announced on Oct. 31 that it was strengthening its appeal to the Latinos by introducing two channels specifically oriented to this demographic, mitúTV and Loop Estrellas. They will make their way onto the 71,000 screens actively using Loop TV in the U.S.
According to Loop Media's, the move comes in response to the growing demand for premium Latino-focused in-venue entertainment content. The company said it took its first step in this direction in August, adding a range of Latino-themed premium content channels such as Latin Hits, Latin Indie, Latin Kids, Latin Pop, Latin Super Channel, Latino Tropical, Live: Latin, Mood Boost Latin, Cinco de Mayo, and Mexican Restaurant.
Justis Kao, Chief Content Officer at Loop Media, told The Latin Times that mitúTV is an English and bilingual programming service that showcases the best of Hispanic food and travel, takes viewers through diverse culinary experiences ranging from street food trucks to the latest trendy restaurants. Loop Estrellas, Kao said, features the latest in celebrity news, entertainment and Hispanic culture, broadcast in both English and Spanish.
"These additional premium content Latino channels increase our commitment to our venues and their customers, many of which have been underserved in the North American business Latino-focused entertainment streaming market," Kao said. "Adding mitúTV and Loop Estrellas to our channel line-up provides our venue owners and operators additional Latino-focused channels to enhance their customers' in-venue experience," he added.
Kao said Loop Media's strategic focus on Latino content is driven by recognizing the U.S. Hispanic community's size, influence, and rapid growth. Latinos currently represent over 19 percent of the country's population at over 63 million, up from 50.5 million in 2010 and 35.3 million in 2000, according to the latest census data. The 26% increase in the Hispanic population was faster than the nation's 8% growth rate.
Additionally, Kao said the cultural vibrancy and cross-generational appeal of Hispanics present an exciting growth opportunity for the company regarding distribution and advertising revenue.
When asked about the future, Kao said businesses can expect more Latino content from Loop Media building on their existing Latin-themed offerings, such as Latin Pop, Latin Hits, and Cinco De Mayo. He also said these two new additions will not be the end of Loop's strategy towards the Hispanic community and that Loop Media aims to provide more Spanish-language programming in the future, further catering to the diverse preferences of its audience.
© 2023 Latin Times. All rights reserved. Do not reproduce without permission.