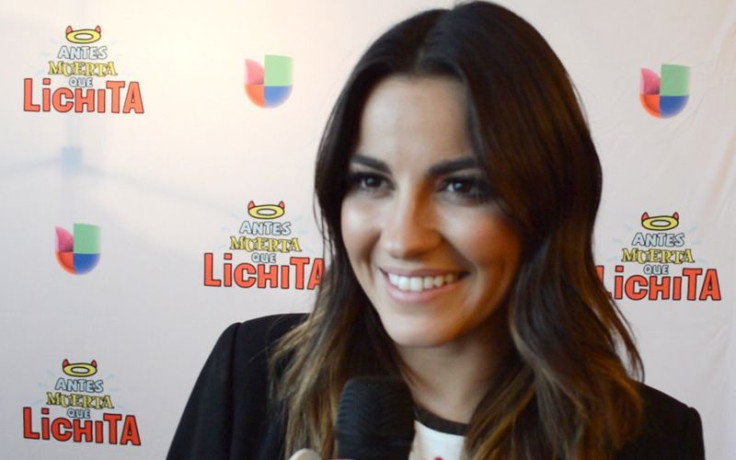 We have seen Maite Perroni grow as an actress so much since her beginnings on "Rebelde." The 32-year-old has starred on a number of telenovelas like "Cuidado Con El Angel," "Mi Pecado" and "Triunfo Del Amor." Her latest role on "Antes Muerta Que Lichita" is the toughest one yet as she had to really get into her character's skin and radically change her appearance. The new Televisa production by Rosy Ocampo centers on a young woman fresh out of college that is struggling to secure a full-time position at the advertising agency she's been interning at.
Lichita is bright and focused on scoring a supermarket chain where her mother works at as a client, but she confides in someone that steals her idea. She suffers from mobbing at work and is teased all-around because of her appearance. Lichita is too nice and she will have to have to change her ways to become someone in this ruthless world. LatinTimes met up with the star of Univision's new primetime comedy and she told us exclusively what has her most excited about this project and if she has ever had to step over someone to get what she wants.
LatinTimes: How difficult has it been to get into Lichita's skin?
Maite Perroni: It has been enriching being able to give life to Lichita. It has been a challenge for me, but it has also been a great gift that life has given me. Being able to work in this production, being able to be part of Rosy Ocampo's team, being able to be part of this cast, a cast that I have been able to share very special moments within the story, as co-workers and as people. Every day makes me happy because you don't always get the opportunity of having a character like Lichita and share it with people that are professionals and have a strong commitment. It's a great privilege that is why I am very happy and excited.
LT: Being in the public eye, have you ever suffered from bullying like Lichita does at work?
MP: Of course I have received criticism like everybody else. Not everything can be good or hunky-dory. There are always people that have a point of view and it can be positive or negative. One time they hacked my Twitter account, sometimes you receive messages with no real intention of adding anything positive. You learn to leave those things behind and you learn to not give it so much importance, that way when something is really important, you give it the right importance and continue ahead.
LT: At one point in the story, Lichita will have to start taking matters into her own hands and step over someone just like they step over her. Have you ever need to take this sort of action to prosper in the entertainment industry?
MP: Fortunately I have never done anything that affects anybody to score a project or gain benefit. I always try to be very respectful about that. I am a hard worker, I am a person that focuses in what she wants and puts all the energy and everything to fulfill it. That is very different of doing something to someone to gain benefit.
I think that is a very special message because in the story we will see this process the character takes that has been through difficult moments and is constantly seen vulnerable. She [Lichita] is exposed to criticism and comments from everyone. As time goes on she has the necessity of seeking vengance and rise up to demonstrate that she is just as capable as everybody else, but she will go to the extreme. An extreme that is not positive, that will make her forget about her values, principles and her family. In the end she will realize things can be that way because she is converting in the person she didn't want to be.
LT: What kind of message does "Antes Muerta Que Lichita" convey to the Univision audiences at home?
MP: The message of the story is very positive, that is what I am referring to. Reaching your goals doesn't mean that you have to step over people. Reaching your goals means that you are secure, firm, dedicated, committed and pour your heart out with positive energy to accomplish them without affecting someone else.
"Antes Muerta Que Lichita" premieres on Tuesday, September 22 at 8pm/7c on Univision. Will you be watching?
© 2023 Latin Times. All rights reserved. Do not reproduce without permission.