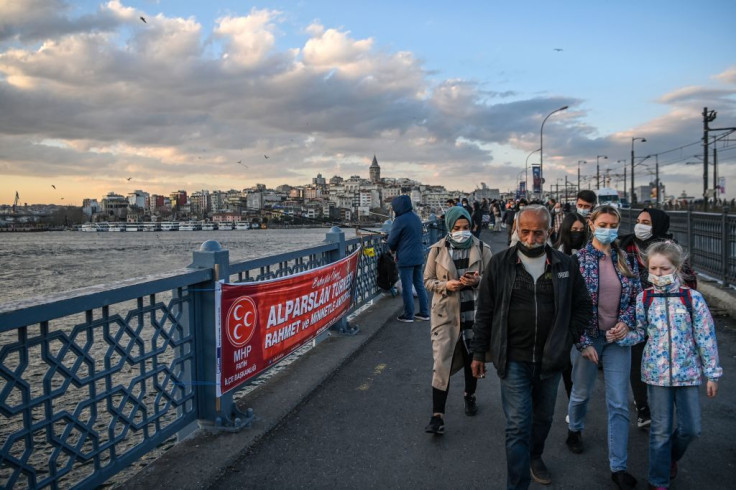 A viral video appeared to show a man setting himself on fire in front of horrified people in Istanbul.
The incident happened Tuesday afternoon in front of the historic Galata Tower in the city, reported Mirror.
WARNING: Distressing content
The video shows the man holding his arms aloft and then dropping to his knees while flames rip through his body. Then he lies on the ground while people watch in disbelief. Later an onlooker emerges from a local café with a fire extinguisher. It is promptly used to put out the fire. Police and paramedics arrive at the scene, and it is believed that the distressed man was taken to a hospital for treatment.
According to The Sun, the man was named locally as 28-year-old Abdullah Cihat Turan P. He was seen dressed as the "grim reaper" in black robes and carrying petrol and a scythe can in his hands. Another video appears to show the aftermath of the horrific incident. In the clip, the man can be seen screaming after the flames were put out. His skin and charred clothes are hanging from his arms. A third clip shows him leaning back on rubbish bags after being extinguished.
One Twitter user wrote that a person burned himself in "front of the Galata tower because of what he had been through." The Twitter user commented that while there were "so many people and shopkeepers, there was no one to stop or prevent a person's desperation before the event."
A video shared online appears to show people taking selfies with the burning man in the background. A woman and a man are seen holding a phone aloft with their backs to the burning figure.
Before setting himself alight, the man was said to be spotted walking around the cobblestoned square for some time. Photos reportedly taken the same day showed the man in his grim reaper costume posing for pictures with tourists. It indicated that many people might have believed it was just a performance.
In a statement, the Istanbul Governorship said that a person named ACTP, "registered to the population of Meram County in Konya, attempted to set himself on fire with a flammable substance he poured on himself near the Galata Tower in our Beyoglu district." The statement further read that the 112 Emergency Health teams transferred him to hospital, and his treatment continues. An investigation "has been initiated regarding the incident," read the statement. The man's tablet and belongings have been seized by cops to look for clues as to why he took the step