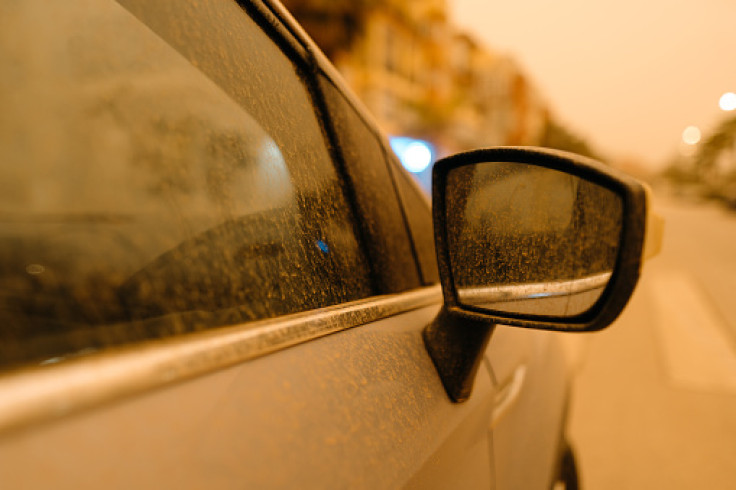 In some parts of the United States, dust storms of the kind that abruptly darkened an Illinois roadway on Monday and claimed seven lives are getting more frequent. Some researchers believe this phenomenon is far worse than is usually believed.
High winds whipping dust from recently tilled farms into a cloud that caked the insides of cars during the Illinois storm led to a 72-car pileup. At least 37 people were hospitalized.
These storms frequently result in accidents, many of which are fatal. There is no reliable data on the frequency of dust storms in the country, but March research in the Bulletin of the American Meteorological Society indicated that dust storms were responsible for 272 fatalities between 2007 and 2017.
"This problem is heavily underestimated, understudied and underreported," said co-author of the study Daniel Tong, a research scientist at the National Oceanic and Atmospheric Administration and an associate professor at George Mason University.
Fast-moving winds that throw up dirt and other material into the air can cause dust storms, which are characterized by dark swirling masses that are challenging to see through and breathe through.
They can obstruct a driver's vision and become especially hazardous over roads. Authorities and automobile safety organizations like AAA advise drivers to completely pull off the road in this situation, switch off their lights to prevent other drivers from following them in the dark and fasten their seatbelts until it passes.
Dust storms are becoming increasingly frequent in some parts of the United States, such as the Southwest, due to drought, climate change, and land management practices, NBC News reported.
According to one study, the Southwest experienced a more than doubling in the frequency of major dust storms between 1990 and 2011.
Increased rainfall may help reduce risk in some regions, such as the eastern United States, but experts warned that flash droughts and intensive agricultural use increase the likelihood of localized dust storms, which can surprise drivers who are unaware of the danger they pose.
According to research from the Meteorological Society, Texas, New Mexico, Arizona, and California have the most fatal dust storms and deaths overall. Illinois was an outlier. The only two fatalities from dust in the state were both in 2017.
"A dust storm is not only a weather phenomenon in the desert, it can happen anywhere in the country," Tong said. "It can come from a farm, it can come from a school playground, even people's backyards. If the land is not covered by vegetation and there's a strong wind, that can be a dust storm."
"We had a prolonged event of dry warm weather for early April that dried off our top soil down to eight inches — dried it to dust," said Trent Ford, the Illinois State Climatologist. "But the bottom layer retained moisture and Monday's really strong winds made the top layer airborne. It was really an unfortunate location along one of the busiest highways."
The main causes of dust are often wind, land disturbance, and dryness, according to Tom Gill, a professor at the University of Texas at El Paso's environmental science and engineering school.
Farm fields without irrigation are a common source of dust storms.
Given that climate change was mostly responsible for Illinois' flooding and wetter planting seasons, Ford said he didn't believe that the incident on Monday was caused by climate change.
However, he noted that Illinois had a particular problem with land management, which may have contributed to the problem.
He did point out that, in the West, where dust storms are most common, climate change was undoubtedly an impact.
Los Angeles Department of Water and Power customers in California have spent at least $2.5 billion managing dust emissions at Owens Lake, which the utility drained and which long served as the nation's biggest source of dust due to human activity.
There may be health effects from dust. Dust exposure can result in fungal infections, respiratory illnesses, and cardiovascular problems. Dust can introduce harmful chemicals and heavy metals into people's homes and lungs.
The Bulletin of the American Meteorological Society study excluded any dust-related fatalities brought on by illness or infection.
"If you breathe particles of stuff in the air and it gets into your respiratory tract, in your lungs, it's going to cause irritation whether it's toxic or not," Gill said. "It adds to the burden of air pollution."
Gill and other experts are worried about how flash droughts, which occur when severe temperatures quickly dry off the landscape during periods of unpredictability, could harm regions of the U.S. that are generally more humid and heavily used for agriculture.
Other fatal highway collisions have been caused by dust storms. Tong's research shows that between 2007 and 2017, there were six such semi-truck crashes, five of which happened in New Mexico and Arizona along two sections of Interstate 10.
More states ought to implement the dust mitigation measures that have been taken in response to the storms along that corridor, according to Tong.
"Now is the time to think about adopting some new land management and air quality measures that have been in practice in some Western states," he said. "For example, we need to consider air quality and health impacts of agricultural tilling. When you till, you should observe weather forecasts and maybe consult some experts about the proper time and check whether the land is very dry."
© 2023 Latin Times. All rights reserved. Do not reproduce without permission.