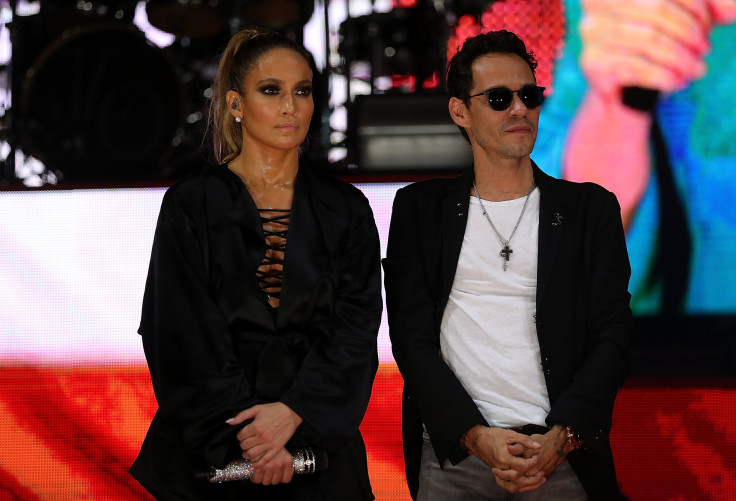 Not every divorce is amicable- a stark example of which is the once #RelationshipGoals couples Angelina Jolie and Brad Pitt who are still stuck in their divorce drama and rarely leave a chance to take a dig at each other. But not singers Marc Anthony and Jennifer Lopez. The duo has been pretty friendly and cordial post their divorce. And in a recent photo that Anthony shared on his social media handle, we can now praise Marc Anthony and Jennifer Lopez for their on-point co-parenting relationship too.
In the adorable picture, Marc Anthony and Jennifer Lopez are seen holding the hands of their 11-year-old daughter, Emme Maribel Muñiz, on the way to a holiday concert at her school. The caption of the photo, which was equally awe-worthy, read, "Nothing but love between us."
Even Alex Rodriguez shared a funny clip of Marc Anthony and Jennifer Lopez from the recital. Both of them can be seen singing along to Whitney Houston's "I Will Always Love You" as the kids performed in the background.
Marc Anthony and Jennifer Lopez got married in 2004 in a beautiful Beverly Hills Ceremony. The couple was blessed with their twins, Emme and Max, in February 2008; and in July 2011 they filed for divorce. But after their split, even when Lopez got involved with her present fiance, retired baseball player Alex Rodriguez, the ex-couple always understood the significance of co-parenting for the sake of their children and have remained good friends.
In fact, in her past interviews, Lopez has described Anthony as a "best friend". And her social media handles also have plenty of family snaps of Emme, Max hanging out with her fiancé, Alex Rodriguez, and his two daughters, Natasha and Ella Rodriguez.
"We're just in a really great place, and the kids get to spend time with the two of us more together and see us working together," Lopez had said. "I think we're really good the way we are. Honestly, we're always gonna be great friends. I'm always gonna be there for him, he's always gonna be there for me. We share something very special in the kids, and we know that. We're there for them, and that's the main thing."
© 2023 Latin Times. All rights reserved. Do not reproduce without permission.