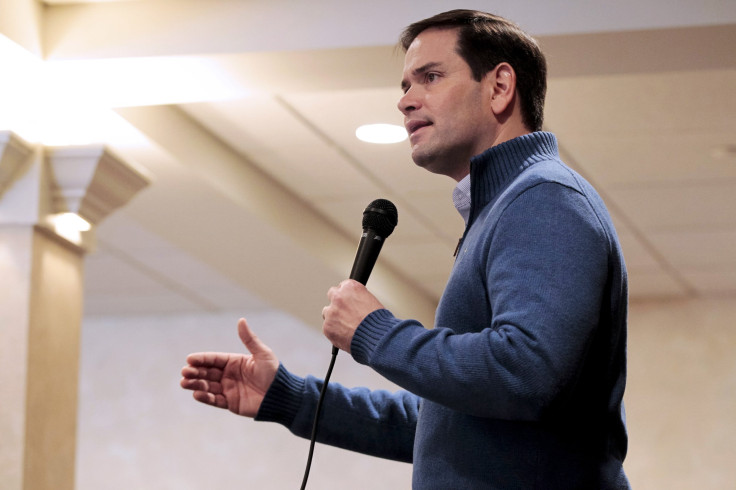 Sen. Marco Rubio (R-Fl.) wants to grow the U.S. military, revive 9/11-era NSA spying powers and support Saudi Arabia in its escalating war with Iran. He outlined these priorities in a series of campaign stops in the early primary state of New Hampshire on Sunday and Monday. Without mentioning them by name, Rubio also criticized his Republican rivals Sen. Ted Cruz of Texas (who has promised to make ISIS territory 'glow in the dark) and Ron Paul of Kentucky, who filibustered the Senate in opposition to a now-defunct NSA data collection program.
"Words and political stunts cannot ensure our security. ISIS cannot be filibustered," Rubio said at the rally, according to CBS News and The Guardian. "We have isolationist candidates who are apparently more passionate about weakening our military and intelligence capabilities than about destroying our enemies. They talk tough, yet they would strip us of the ability to keep our people safe. [...] "While some claim they would destroy ISIS, that they would make the sands of the Middle East 'glow in the dark,' my question is, with what?"
Rubio did name names on the other side of the aisle, arguing that Democratic President Obama has "deliberately weakened America" and that Democratic presidential candidate and former Secretary of State Hillary Clinton is "incompetent" a "liar."
Yet on the rising tensions between Saudi Arabia and Iran, Rubio's comments weren't far off from Clinton and Obama's own positions.
Unencumbered by police forces, a mob in Iran attacked the Saudi Arabian embassy in the Iranian capital of Tehran following the mass Saudi execution of a Shia cleric and 47 other people. Saudi Arabia cut diplomatic ties with Iran following the attack on its embassy, and fellow Sunni-majority allies in the Gulf have downgraded relations as well.
"I'm not a big fan of the judicial system in Saudi Arabia, and I don't know all the details behind this individual who was accused of plotting to overthrow the government, but the answer to that problem cannot be to allow protesters to storm an embassy," Rubio said. "Our response should be to stand with our allies."
"Clearly [the executions raise] serious questions that we have to raise directly with the Saudi government," Clinton said on Sunday, also in at a campaign event in New Hampshire, according to CNN's Dan Merica. "We have governments we work with on a number of issues whose policies and values are antithetical to ours, to be just blunt about it. And yet who also have certain interests with us that we are involved in," she said.
© 2023 Latin Times. All rights reserved. Do not reproduce without permission.