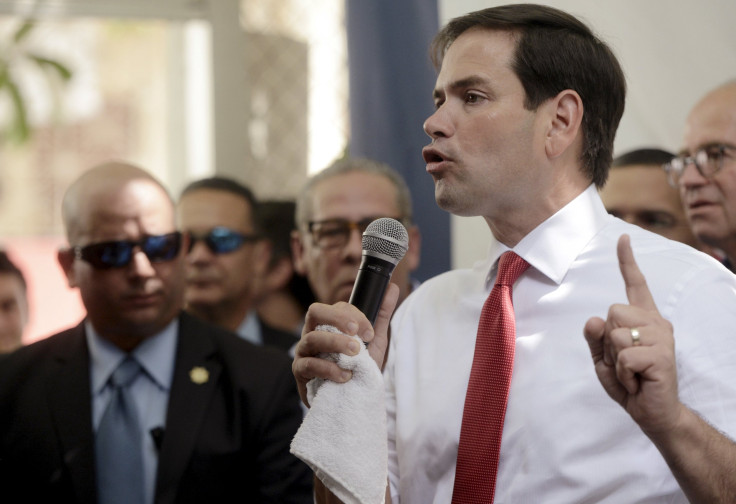 If elected president, Marco Rubio says that he would not support comprehensive immigration reform, the Republican candidate told ABC's George Stephanopoulos this week. Answering Hillary Clinton's charge that he'd flipped on the issue, Rubio implied that he was bowing to the realities of the legislative process. Rubio has unique insight into the failure of the 2013 comprehensive immigration reform bill.
He was on of the 8 Senators on a bipartisan working group that sought to forge a grand bargain on border security and legal status for the approximately 11 million immigrants living in the U.S. illegally. Now he is criticizing Donald Trump for supporting the Dream Act. So why the shift?
"Because it can't pass," Rubio told Stephanopoulos. "We are not going to pass comprehensive immigration reform in this country."
Rubio's pessimism is understandable given the political capital he squandered trying to make comprehensive immigration reform work. Viewers might find Rubio's phrasing puzzling.
Immigration reform did "pass," in the Senate in 2013, and was expected to pass in the House. It just couldn't make it to the floor because the of the Hastert rule, an informal agreement among the Republican House that all bills have to enjoy majority GOP support.
It could even pass now. What might be a more precise political prognosis is that comprehensive immigration reform can't make it to the floor of the House, as Speaker Paul Ryan promised this week.
As Rubio points out, Democrats missed their best chance to pass comprehensive immigration reform during Barack Obama's first term.
"It's funny that Democrats attack Republicans for not doing what they didn't do when they have a majority in the house, a majority in the house and Barack Obama in the White House," Rubio told Stephanopoulos.
Yet Ryan says that he would be willing to work with whomever is sworn in to the White House in 2017. By writing off reform entirely, Rubio is taking a step that not even his conservative colleagues require.
The irony is that Rubio's leadership on immigration reform helped forge strong support for a pathway to citizenship, support that might nip at his heels if he makes it through the GOP gauntlet and into the general election.
When the 2013 bill was up for a vote in the House, a majority of Americans supported it. Even as recently as this summer, 65 percent of U.S. adults support a pathway to citizenship as a tool to resolve the nation's immigration issues.
Can Rubio crush the support for comprehensive immigration reform that he created? And barring some pathway to legal status, how does he intend to tackled the humanitarian and crisis that is anchored to this vulnerable population?
"They only way to move forward through a series of steps that begins with border security," Rubio said.
© 2023 Latin Times. All rights reserved. Do not reproduce without permission.