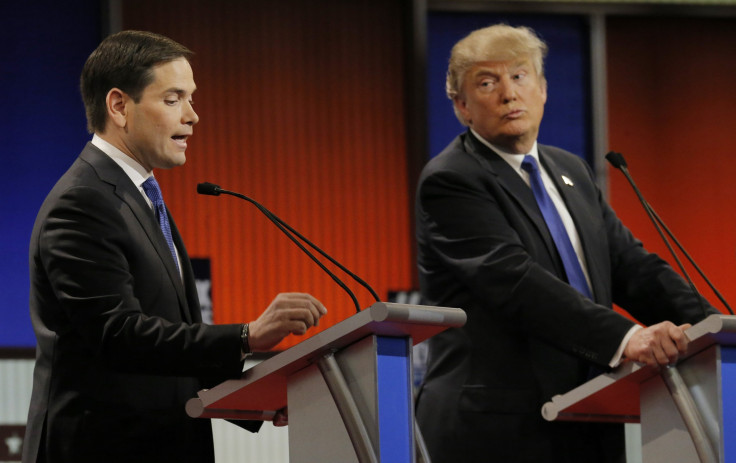 Marco Rubio brought down the house at Thursday night's Fox News GOP debate with a joke about yoga. Here's how it went down. Trump repeated all night that he is very flexible. Flexible, flexible flexible on immigration, Supreme Court nominations and any other issues that would require him to work with congress. Cruz repeatedly tried to get Trump to stop interrupting him, in part by telling him -- as if speaking to a child or an anger management patient -- to "breathe."
"Breath, breath, breath," Cruz says, looking at Trump.
"Lying Ted!" Trump says, shaking his head and speaking over Cruz.
The candidates were arguing about Cruz's support of a George W. Bush Supreme Court justice, John Roberts. Cruz has had this argument before with Jeb Bush. No one really cares. But break out your yoga mats, because it's about to get real.
"You can do it. I know it's hard but just --" Cruz says before Rubio cuts him off.
"When they're done with the yoga, can I answer a question?" Rubio says.
"You cannot..." Cruz says, adding "I hope that we don't see yoga on this stage."
"We he [Trump] is very flexible so, you never know...." Rubio says, to raucous applause from the Detroit audience.
It's a hilarious joke but also a terrifying scenario. Can you imagine Ted Cruz being your yoga teacher, telling you to breath between bits of sizzling bacon recently roasted on his assault rifle? Then you look over at the next mat to look for sympathy, but it's Donald Trump -- locked into a backbend with his hair falling down and his face turning from orange to pink.
© 2023 Latin Times. All rights reserved. Do not reproduce without permission.