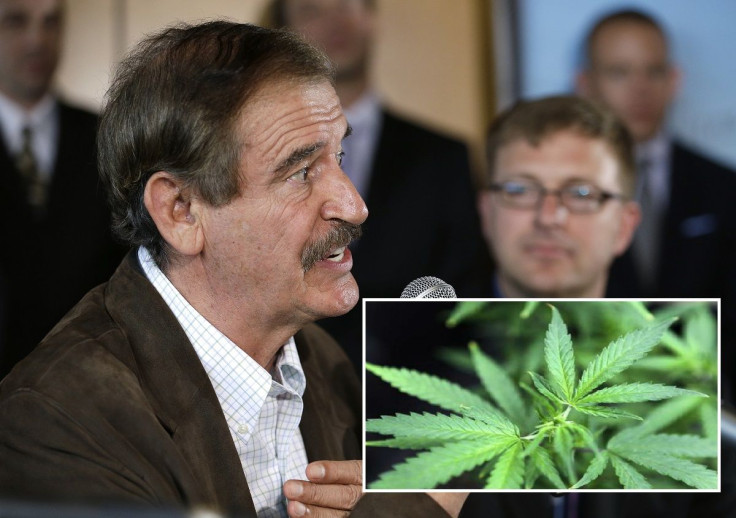 At a Seattle press conference held to announce former Microsoft manager Jamen Shively's plans to link up medical marijuana dispensary chains in Washington, California and Colorado in launching the first national brand of retail marijuana, former Mexican president Vicente Fox praised the new CEO of Diego Pellicer Inc. and expressed support for the legalization of marijuana. Fox, a former Coca-Cola executive and Mexican president from 2000-20006, said he had no financial stake in the venture and that he had appeared at Shively's request. The two met 13 years ago when Fox appeared at the inauguration of a computer center in Sinaloa opened by a company Shively used to run.
The former Mexican president made reference to the terrible violence of Mexico's drug war, which took 70,000 lives during Felipe Calderon's six years as president.
RELATED:
Arellano Felix Pleads Guilty In US Court
Mexico City Kidnappers Pose As Police
Tijuana Becomes First City In Latin America To Go All-Digital
"In Mexico we welcome this initiative," Fox said, "because the cost of the war in the case of Mexico is becoming unbearable, too high for Mexico, Latin America and the rest of the world." He went to argue that legalization would be a death knell for drug cartels.
Current Mexican president Enrique Peña Nieto might not agree. In a CNN interview last year, he told the network he was not in favor of the legalization of marijuana because it could be a gateway to harder drugs.
The Seattle Times reports that Shively offered little in the way of details on deals he had made to acquire dispensaries in Washington and Colorado, two of the 18 US states where medical marijuana is legal. Nor did Shively speak on who investors in his company were or how their investments would not qualify as a violation of a federal prohibition on marijuana. The paper also reported that the CEO retreated from earlier statements about wanting to open up legal marijuana trade between Mexico and the US. But one speaker at the event, Skip Dreps, an Army veteran there to advocate for the use of marijuana in treating PTSD, told the paper that Shively's plan for the company's eventual expansion included the opening of franchises in Mexico for selling marijuana, though it wouldn't involve the transportation of pot in either direction across the border.
The Justice Department has said that it can continue to prosecute large-scale marijuana operations even if they comply with state law. The Washington Post notes that even Shively's assertion that no money or marijuana from his business will traverse state lines would not necessarily protect him or his distribution partners from arrest.
© 2023 Latin Times. All rights reserved. Do not reproduce without permission.