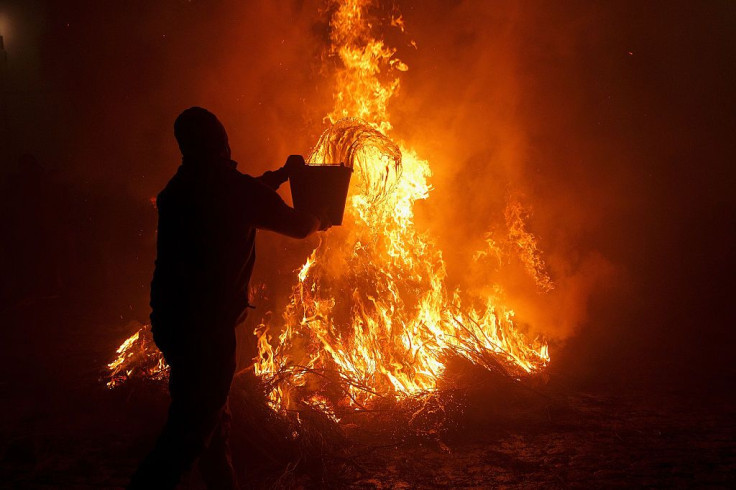 A Solano County man was arrested Wednesday after being accused of starting a deadly wildfire in Northern California last year to cover up a woman's murder.
According to NBC News, Victor Serriteno, 29, was already initially arrested in September 2020 and charged with the murder of 32-year-old Priscilla Castro. The Vallejo, California woman reportedly went on a date with Serriteno on the night of Aug. 16 after meeting him online. The mom of a 9-year-old daughter never came back home. Castro was reported missing on Aug. 18, the same day the Markley Fire began to burn, reported the Washington Post.
Castro's burned body would later be found in a rural area near Lake Berryessa on Sept. 2. The suspect was apprehended on Sept. 11 last year in Santa Clara, California, and booked into the Solano County Jail on a no-bail warrant for the murder.
However, the wildfire continued to consume large swathes of land even as Serriteno sat in his holding cell. The Markley Fire managed to merge with the larger Hennessy Fire, which was eventually considered part of the mammoth "LNU Lightning Complex." The massive wildfire was declared contained only on Oct. 2, by then it had devastated 363,000 acres across five counties and destroyed at least 1,500 structures.
The deaths of two fire victims are directly attributed to the Markley Fire. Douglas Mai, 82, and Leon "James" Bone, 64, were discovered dead in their burned homes in unincorporated Solano County in late August 2020, the Sheriff's Office confirmed.
"Based on an extensive eight-month investigation, we believe Serriteno deliberately set the Markley Fire in an attempt to conceal his crime," Sheriff Tom Ferrara said at a news conference.
ABC7 reports that law enforcement has confirmed that, with the development, the deaths of Mai and Bone will now be considered homicides. Prosecutors are set to file to add two more murder charges and arson charges against Serriteno.
© 2023 Latin Times. All rights reserved. Do not reproduce without permission.