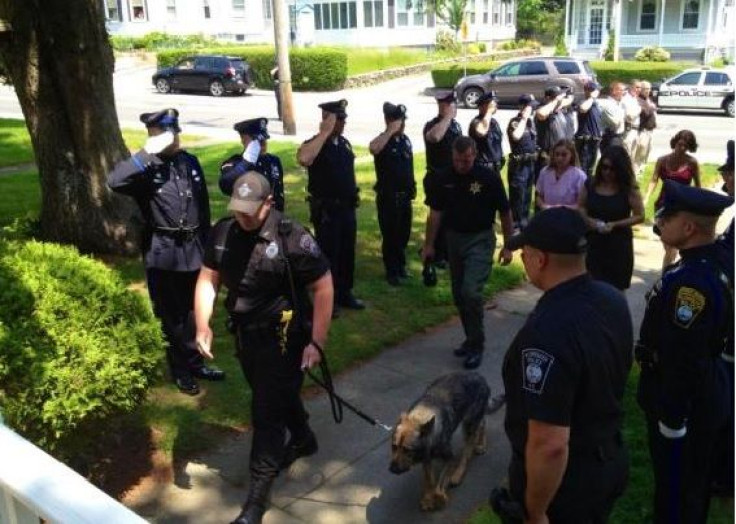 Officers in Plymouth Massachusetts lined up along the entrance to the animal hospital where 2-year-old police dog Kaiser was going to be put to sleep. As Kaiser made his way toward the door to the hospital the officers along the way saluted their beloved police dog.
The image of the officers saluting Kaiser the police dog has gone viral. Much like the photo of the Kentucky police dog who stopped to pay his respects at the casket of his fallen partner.
Officer and patrolmen Jamie Lebretton was Kaiser's handler and friend. On the K-9 unit's Facebook page, officer Lebretton posted a notice telling everyone he has decided to end his partner's suffering and put him to sleep. In March, Kaiser had been diagnosed with a fatal kidney disease.
"Kaiser loved being a police dog and I will miss him dearly," Officer Lebretton wrote on Facebook. "Out of love and respect for Kaiser, and with the input from our excellent, vet, trainer and family, I have made the heart wrenching decision to end Kaiser's suffering."
Officer Lebretton left his partner a message on Facebook telling the beloved dog how much he meant to him.
"RIP my boy. I could not have asked for a better partner or friend. You made me a better person, a better handler and a better cop. Till we meet again Kai. I love you and will miss you daily."
Following the euthanasia, Kaiser was laid to rest at a local pet cemetery.
© 2023 Latin Times. All rights reserved. Do not reproduce without permission.