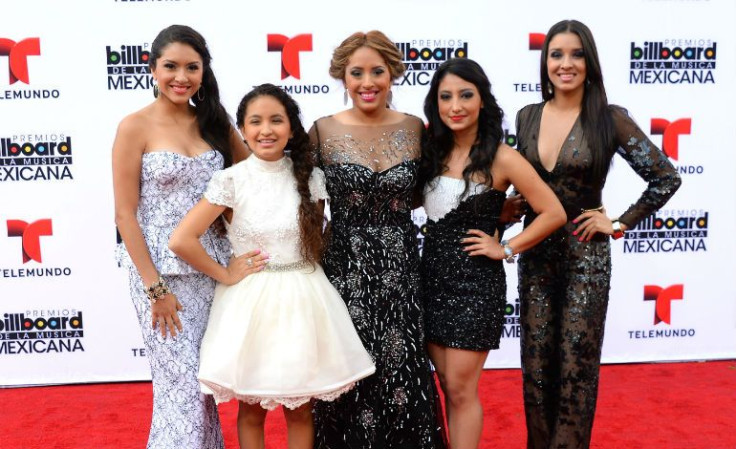 Selena y Los Dinos, Chicas Sparx and Pandora, are some of the most popular groups who have succeeded in the biz with their family-based musical groups. If you're a fan of their music, then Las Fenix is definitely up your ally!
Meet Nadia Rodriguez (bass), Lesli Rodriguez (bajo quinto), Anahi Rodriguez (percussion), Berna Rodriguez (accordion) and Adela Rodriguez (drums), the five talented sisters behind Las Fenix. The girls, who are primarily known for their fun norteño and cumbia sounds, are Mexican-Americans from Texas. They are young, beautiful, charismatic and without a doubt will make you get on the dance floor in a heart beat!
Las Fenix, formerly known as Las Hermanas Rodriguez, are promoting their latest album "Retro Live" and romantic pop single "Basta." Check out everything they told us in the video below and find out more of the chicas in our Q&A.
Latin Times: How was Las Fenix born?
Las Fenix: When we were young, we surprised our dad on his birthday with a special gift. He loved music and we learned a couple of songs with mariachis ---it was terrible! We weren't born with musical talents, but we enjoyed it so much that we started doing it as a hobby. Through out the years, we started practicing and now we are Las Fenix.
LT: How did you guys decide who plays what instrument?
LF: It just happened naturally. Anahi [the younger sister] came in to the group a couple years later and she was left with the timbales.
LT: Why are you girls called 'Las Fenix'?
LF: Our last name is Rodriguez, we went years as 'Las Hermanas Rodriguez,' but people wanted us to have an artistic name. One day, my dad suggested 'Las Fenix' because of the Phoenix bird. Every 500 years, the bird turns into ashes and it's reborn with it's beautiful singing voice. We love the name, it's like a gift from God.
LT: What makes your new album 'Retro Live' different from your previous work?
LF: Nine of the songs on the album are covers from popular songs in the 80's and 80's. We're excited about it. Many people know that we've always done Norteños and cumbia ---it's been our genre for years. With this album, we explore a little more and open up to new music. We worked extra hard for it.
LT: Let's talk about your latest single 'Basta.'
LF: 'Basta' is the only song on the album that's not a cover. It's an original from two brothers, Sergio and Martin Carmona. We heard it and fell in love with it. It's a really nice song, we ask everyone who hasn't heard it to listen to and we hope everyone enjoys our version.
LT: How is it working as sisters? Are there any disadvantages and advantages?
LF: A disadvantage is sharing a bathroom when we stay at hotel rooms because everyone wants to shower at the same time. So we have to wake up extra early. And there's a lot of advantages. We all get paid equally, nobody is ever late, we're always together, you don't worry if someone is going to leave or not show up to events.
© 2023 Latin Times. All rights reserved. Do not reproduce without permission.