Hollywood is renowned for its glitz and glamor, but this year, it garnered attention for a significant event –-a 150-day-long writer's strike that concluded last week. During the course of the protests, numerous WGA and SAG-AFTRA members, among them several prominent Latino voices, stepped forward to advocate for their cause.
"The WGA reached a tentative agreement with the Alliance of Motion Picture and Television Producers on a new three-year Minimum Basic Agreement. On September 26th, the Negotiating Committee, the WGAW Board and WGAE Council all voted unanimously to recommend the agreement." stated the Writers Guild of America in a press release . The strike initially took place as a result of writers – part of the WGA community – being underpaid and lacking job stability.
During these protests, the whole community of WGA along with its sister company SAG-AFTRA – who supported the strike – converged on the streets in a resolute march and used their platforms to raise awareness. Among these members, several Latino voices from these communities also made their presence felt. Let's take a moment to acknowledge a few of them:
Eva Longoria
Longoria is a Mexican-American and actress known for her many great roles, including the iconic role of Gabrielle Solis in Desperate Housewives. Not only is she an actress but she recently debuted as a director for the film, Flamin' Hot. The movie is based on a true story of Richard Montañez who lands a position as a janitor at the Frito Lays company, where he later uses his Mexican-American heritage to change the game in the snack industry by creating Flamin' Hot cheetos.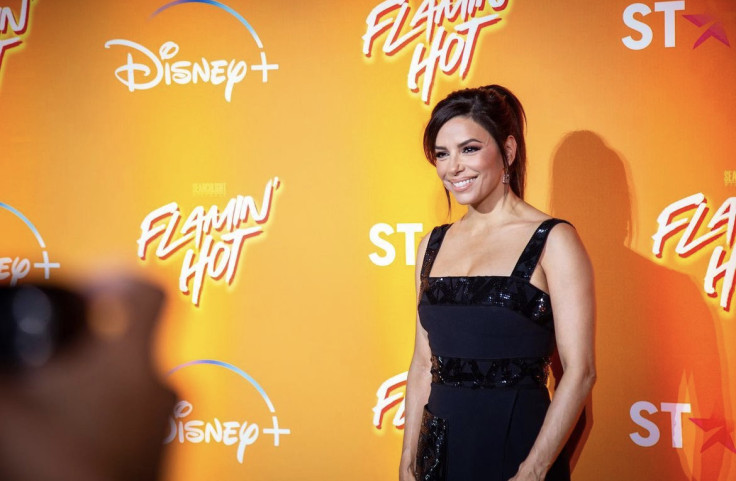 According to The Hollywood Reporter, Longoria – who is a member of SAG – expressed "a Latinx person, writer, creator, crafty, whatever it is, I'm supporting it. And that is the most painful part of this strike, it's like not being able to shout from the highest rooftop the amazing work that our community is doing. And so for me, I think it's important for us to remember we're not there yet and we have a long way to go."
Penélope Cruz
Spanish actress Cruz has portrayed roles as big as Angelica in the Pirates of the Caribbean series. Being a member of SAG has led her to use her platform to bring awareness to others about the situation. She posted a recent video on Instagram of actor Peter Sarsgaard who took it upon himself to mention during an acceptance speech at Venice Film Festival "I think we can all really agree that an actor is a person and that a writer is a person. But it seems that we can't and that's terrifying."
Al Madrigal
Madrigal, who comes from Mexican descent, is a comedian and writer. He was spotted protesting back in early May outside of Universal Studios in Los Angeles, California where he stated to Deadline Hollywood "Here's the saddest thing, this how few Latinx writers there are. We're all on the same corner... we all fit here. That's the problem. There's a much bigger problem with residuals, but we've got triple issues."
Claudia Forestieri
Forestieri is a Dominican writer who pertains to the WGA union. She is the creator and executive producer of "Gordita Chronicles". She was seen out forming part of the strike in Los Angeles and expressed to Deadline Hollywood "Sometimes you've got to demand respect when you don't get it..."
Jaime Camil
Camil is a Mexican actor who has portrayed many legendary roles, including the role of Papa in the Disney film, Coco. He was part of the many SAG-AFTRA members who were protesting in Los Angeles where he remarked to Deadline Hollywood "We are nothing without the page."
As a result of several influential members of these communities alongside these latino figures, writers are now heading back to work.
© 2023 Latin Times. All rights reserved. Do not reproduce without permission.