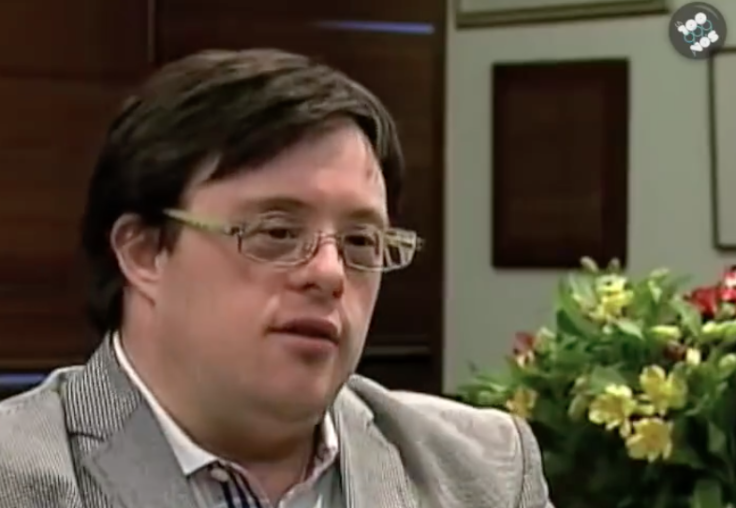 Pablo Pineda has made of his life an on-going learning experience. Pineda, now 41 years old, was the first person with Down syndrome to ever graduate from college and he didn't stop there. The unstoppable Spaniard can also be called a writer, teacher, actor, TV host, and conference speaker.
"I think I'm at the very front of the war, and that is inconvenient," Pineda told BBC in an interview a few years ago. "You have to fight, get into society when the Down world usually tends to go in a different direction. I stay with the 'normal' ones while others with Down go to their organizations, their parents, their little tiny world."
Pineda, who attributes most of his success to the support of his parents, confessed he is not "just one special case," as some organizations have labeled his achievements: "It makes me very mad that they say that, because they do it to justify their lack of improvement, they use that to stop trying for the rest. I think it's not true. I always tell parents not to pay attention to the fact that I've been in a movie, and have a career. That is not important. What's important is that you can do it, and your parents have to teach you, and encourage you. After that, you can do anything."
Here are 10 interesting facts about Pablo Pineda:
1) He was born in Málaga, Spain in 1974.
2) He holds a diploma in Teaching and a BA in Educational Psychology.
3) Francisco de la Torre, Mayor of Málaga, presented him with the "Shield of the City" award.
4) He received the Silver Shell Award at the 2009 San Sebastián International Film Festival for his performance in the film, "Yo También."
5) He was also nominated for a Goya Award in the Best New Actor category.
6) He lives with his mom. His dad passed away about 5 years ago.
7) He wrote his first book, "El Reto de Aprender," in 2013.
8) He currently works with the Adecco Foundation, with whom he has been developing an integration program that hopes for the social inclusion of people with disabilities.
9) He has travelled to other countries to present his plan, and encourage other communities to create job opportunities for people with Down syndrome.
10) He has been invited to participate in TED Talks, where the world's leading thinkers and doers give the talk of their lives in 18 minutes and expose ideas worth spreading.
© 2023 Latin Times. All rights reserved. Do not reproduce without permission.