As Queen Elizabeth II's funeral processions concluded on Monday, Meghan Markle, the Duchess of Sussex, reportedly asked her father-in-law, the newly-crowned King Charles III, for a private one-on-one conversation before she and Prince Harry return to California.
YouTube entertainment correspondent Neil Sean claims that Meghan sent the letter asking for a private correspondence with the King, reportedly as "an opportunity to clear the air, pull the rights from wrongs and explain some of the rationale behind what they've been doing over the last two years," according to the New York Post.
As Meghan and Harry are returning to the United States now that the funeral of Queen Elizabeth II is over, Sean speculates if the meeting actually happened, or if it was ignored, saying that "[truthfully,] we have no idea if this is going to go forward."
Meghan and the Royal Family in general have had conflicts with each other due to Meghan's belief that the Family did not do enough for her mental health during her time as a working royal, where she was constantly attacked by the British tabloids and press, Insider reported.
Among the other experiences she has had, Meghan reportedly has also claimed that her in-laws were racist against her while she was pregnant with her first child Archie. She had described her condition during her tenure as a royal as "almost unsurvivable," and she and her husband has been forced to remove their social media pages due to the harassment.
Recently, as footage of the funeral continues to populate British television, Meghan and the Queen Consort Camilla Parker Bowles have been targeted with online harassment and hate campaigns, with videos describing misinformation towards Meghan, as well as videos negatively comparing Camilla with the late Princess Diana.
"It's actually almost inconceivable how much abuse Camilla took," Tina Brown, a royal correspondent, said. "I mean, she was called hag, old bag, witch. I mean, these were the kind of words that were used about Camilla for years."
Neither the Sussexes nor the Royal Family have publicly addressed the harassment the two are receiving online as of press time.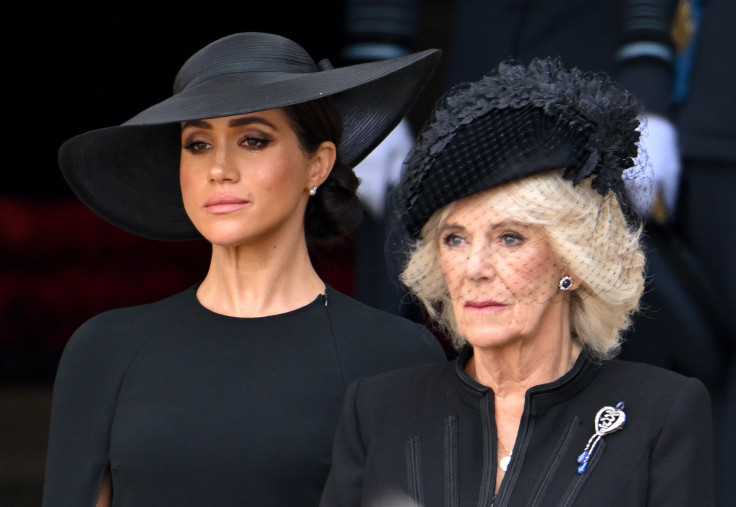 © 2023 Latin Times. All rights reserved. Do not reproduce without permission.