A throwback picture of Meghan Markle flashing a magazine that features Kate Middleton as its cover girl is going viral. The picture, which was shot in 2014, was taken long before she met Prince Harry. The entertainment publication featured the former "Suits" actress's writings, as she reportedly contributed to the edition and wrote about sunglasses.
Scores of fans are livid at how the photo doesn't quite add up to what Meghan has been saying all along- her apparent obliviousness about Harry's familial background and the British Royal Family when they began seeing each other.
The image, which sees a beaming Meghan standing next to the magazine's Deputy editor Denise Cash, surfaced years later as the royal rift deepens. Twitterati began to slam the Duchess of Sussex for her apparent "naivety when it came to knowing the British royalty".
This isn't the first time that the image has gone viral. Royal fans went into a tizzy in 2019 when the image made the rounds. Fast forward to now, and things have changed beyond recognition. Kate and Meghan reportedly can't see eye to eye, thanks to the latter's open revelation about how the Duchess of Cambridge made her cry in the last week following up to the wedding, over outfits for bridesmaids.
Meghan spoke about the same in the bombshell interview with Oprah Winfrey that aired on CBS, earlier in March. Reports of clash between the Duchesses first surfaced in 2018, when insiders believe Meghan was stressed about how things were panning out in regards to her wedding dress fitting.
During the interview, Oprah had prodded Harry's wife about the whole controversy: "Was there a situation where she (Kate) might have cried? Or she could have cried?" asked the iconic show host, to which Meghan replied, as cited on Daily Mail, "'No, no. The reverse happened. And I don't say that to be disparaging to anyone, because it was a really hard week of the wedding. And she was upset about something, but she owned it, and she apologized. And she brought me flowers and a note, apologizing. And she did what I would do if I knew that I hurt someone, right, to just take accountability for it."
The Duchess also recounted how devastating it was to see the narrative being twisted, and worse, nobody from the Royal Family actually coming forward to correct the fabricated tale that was doing the rounds. Meghan added that it was "shocking" that the "reverse of that would be out in the world."
She continued: "A few days before the wedding, she was upset about something pertaining - yes, the issue was correct - about flower girl dresses, and it made me cry, and it really hurt my feelings. What was hard to get over was being blamed for something that not only I didn't do but that happened to me. And the people who were part of our wedding were going to our comms team and saying: 'I know this didn't happen. I don't have to tell them what actually happened'."
Kate's uncle has however refuted these allegations. And, has even maintained that the Duchess of Cambridge was mortified by the accusations, as reported by Page Six.
While the image exudes an eerie sense of connectedness— between Meghan and her knowledge about the Royal Family, she has often reiterated how little she knew about Harry when they first met and reportedly had to google the British National Anthem online. But Meghan's childhood bestie Ninaki Priddy believes she was always fascinated by the Royal Family. "[Meghan] was always fascinated by the royal family. She wants to be Princess Diana 2.0."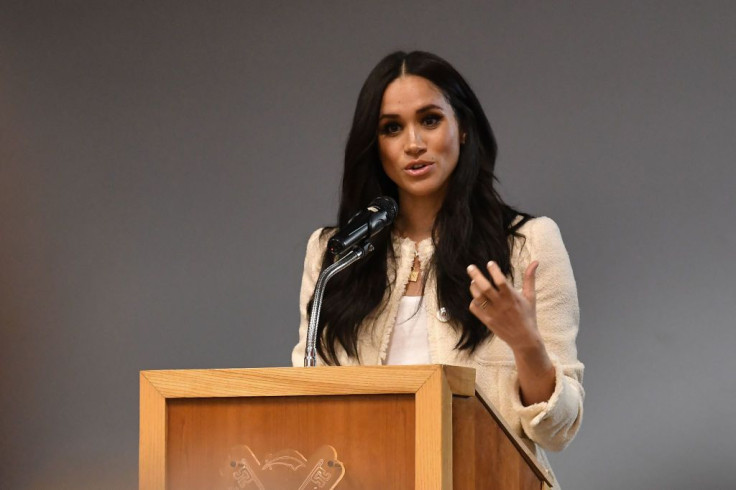 © 2023 Latin Times. All rights reserved. Do not reproduce without permission.