Much has been written about the openly unconventional marriage of former US President Donald Trump and his wife Melania in the past. It has also been long speculated that the power couple prefers to sleep in different rooms, as it works well for them.
While this piece of information sparked rumors of trouble or lack of real intimacy in their marriage, a recent book "The Art of Her Deal: The Untold Story of Melania Trump" suggests exactly why. Donald wakes up a lot earlier than Melania and then goes and watches TV at 5 p.m.
"No matter which of his properties he is visiting, Trump sleeps in a separate bedroom that has been decorated to his taste – he favors darker colored walls and rugs, while Melania likes whites and light colors," the book reveals, further detailing, "Trump typically wakes around 5 am, well before Melania, and turns on his television."
The book further cites that the Trumps have been a family that values individual space, and above all, respects it. The book also revealed that they are used to having lots of individual space, even while being on family vacations and the like.
"Ivanka, her husband, Jared, and their three children have their own separate mansion at Bedminster, Trump's private golf club on over five hundred acres in New Jersey. Donald and Melania aren't known for inviting their grandkids to cuddle with them in bed in the morning, as George H. W. Bush and his wife, Barbara, famously used to with their grandchildren," reported in Daily Star.
The book, which comprises interviews with over a 100 people in five countries, highlights the personality of Melania in a lesser-known light. Author and Pulitzer Prize–winning reporter Mary Jordan tries to debunk a popular stereotype of an aloof woman; that stuck with Melania ever since she married Trump in 2005. Jordan has reportedly brought forth interesting reveals that point to how Melania has been his single most influential adviser on many occasions.
Grapevine was recently abuzz with rumors about the couple heading for a split after Melania reportedly expressed her interest in wanting to set up an office separate from Donald now that they're no longer living in The White House. The speculations were further strengthened by Melania's absence from the recent Super Bowl part that Trump had attended all alone.
In another related deelopment, two newlyweds—John and Megan Arrigo— were treated to a surprise visit by Trump at their wedding celebrations which was held at Mar-a-Lago. Turns out that the former president used the forum to rebuke Joe Biden's performance as president.
"They're telling me about the border, they're telling me about China, they're telling me about Iran. How are we doing about Iran?" he asked, as he addressed the guests at the wedding ceremony. "The border's not good. The border's the worst anybody's ever seen it." He ended with: "A lot of things happening right now. I just want to say it's an honor to be here," he added by quickly snapping out of it and then remarking to the young couple that, "You are a great and beautiful couple."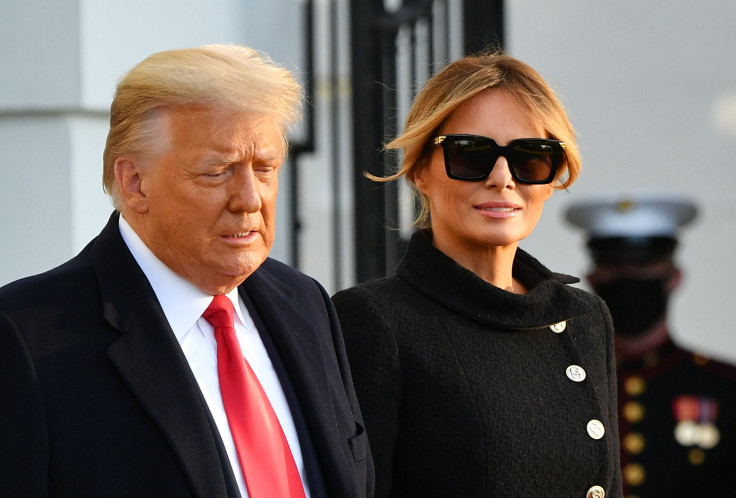 © 2023 Latin Times. All rights reserved. Do not reproduce without permission.