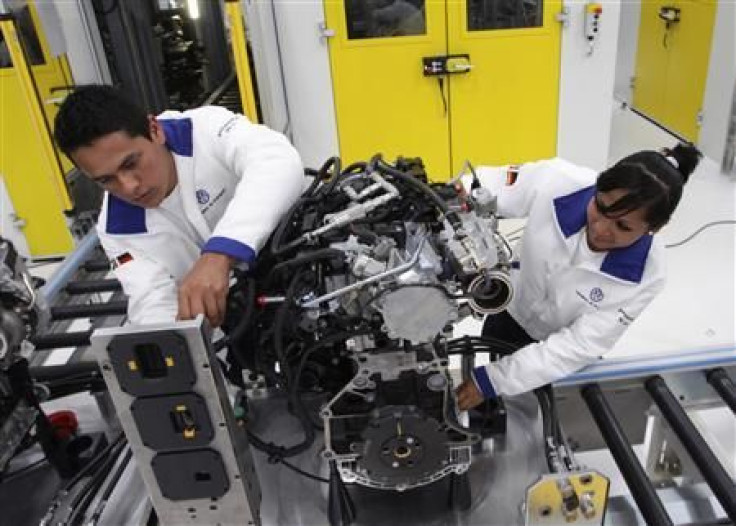 (Reuters) - Times are tough for the assembly-for-export plants known as maquiladoras clustered along the U.S. border, a region that has lost economic muscle in the face of competition from China, successive U.S. recessions and drug war violence.
But there are signs of a turnaround elsewhere. Mexico is winning back U.S. import market share and an energetic new government promises deep economic reforms in pursuit of 6 percent annual growth.
Key to the revival is a shift in activity from the border toward more high-tech manufacturing in central states far from the drug gang turf wars and smuggling routes.
New foreign investment, especially in the auto industry, heads increasingly to Guanajuato and Aguascalientes states, northwest of Mexico City. Together with neighboring Queretaro - home to a small but booming aerospace cluster - and San Luis Potosi, they are shaping up as Mexico's next-generation manufacturing hub.
Boosting productivity and adding local content is crucial to Mexico's goal of breaking out of the emerging market B-list and narrowing the income gap with advanced economies, as countries such as China and carmaking competitor South Korea have done.
Bucking an overall trend of falling productivity, the central states already have a similar manufacturing output to the four border states of Baja California, Coahuila, Chihuahua and Tamaulipas with about one-third of the workforce.
On Guanajuato's Federal Highway 45, heavily traveled by trucks heading north to the U.S. border, a gleaming new factory stands where corn and beans used to grow.
German carmaker Volkswagen (VOWG_p.DE) will employ 700 skilled workers and produce 330,000 engines a year at its $550 million plant, joining foreign companies such as Japan's Nissan (7201.T), Honda (7267.T) and Mazda (7261.T) which are also building new factories on Mexico's fertile central plains.
The new operations, drawn to the region by cheap wages and living costs, abundant land, good highways and incentives from local governments, are helping to transform an area once known as the nation's breadbasket into a hive of factory activity.
"We are having a real boom here now with the automotive industry," said Vanessa Cordero, commercial director of the Castro del Rio industrial park, which was built on a former asparagus farm some 20 minutes drive from the new VW plant.
"(Japanese carmakers) tell all their suppliers to set up in Guanajuato by such-and-such a date. That's why we have a tsunami of Japanese companies arriving in the state."
Volkswagen occupies 70 hectares of the 1,000-hectare industrial park Puerto Interior, flanked by cornfields on one side and a new airport on the other. The site also houses a new Pirelli (PECI.MI) plant mainly making tires for the U.S. market.
"We're not looking for clients, they come to us," said Oswaldo Antillon, logistics manager at Puerto Interior, where on-site facilities include: a customs house, healthcare center, two electricity substations, three wells, a polytechnic with 2,000 students and a railway station.
Although the average murder rate in the central states was high at 16 murders per 100,000 people in 2012, compared to one in China and 2.6 in South Korea, it is half that of the four border states.
Executives from aerospace giant Bombardier (BBDb.TO) say they have had no security problems at their glistening white plant in Queretaro, where the Canadian company is building roughly 85 percent of the composite skeleton for the Learjet 85.
"From a strategic point of view, Mexico is a very important operation," said Bombardier plant quality manager Norman Thompson. Bombardier can truck the parts made in Queretaro to Wichita, Kansas for final assembly in two days and the roads are well policed, he said.
EDUCATION PAYS
In years past, many young people in the region could only aspire to a minimum wage job earning 60 pesos ($4.87) per day.
Now factories needing skilled workers have spawned specialized training centers like Queretaro's aerospace university and Puerto Interior's National Polytechnical Institute campus.
The polytech helped establish a senior high school to bridge the gap between local secondary schooling and the rigors of an engineering degree. Students, 95 percent from nearby towns, then spend five years at the polytech, where tuition is free.
"Before, most of the local population did not even have a medium-level education, only primary school, and they worked in agriculture or migrated to the U.S.," said campus director Aldelmo Emmanuel Reyes. He says a new engineering graduate can earn five times the minimum wage, rising to 10 to 20 times more after five years.
Sergio Hernandez, 20, is about to finish a two-year program blending senior high school with on-the-job-training at auto part maker Schaeffler to become a production line supervisor.
Before that, he worked for two years at a machinery workshop after secondary school. He says his employment chances have improved "incredibly" since he started the course: "I have work experience that can be documented, and my high school diploma."
MADE IN MEXICO
New auto plants under construction, including an Audi plant in nearby Puebla, will employ more than 13,000 people. Officials say five times more jobs will be created down the track as factories source parts from Mexican-based suppliers, such as Honeywell International (HON.N), which hired 10 percent to 15 percent more staff at its Mexicali plant after winning a turbocharger contract for VW.
Auto parts makers such as Japan's Jatco and Germany's Hella are also setting up shop and manufacturing services provider North American Product Sharing expects up to 200 auto suppliers to flock to the region in the next three years.
With the 'Made in Mexico' component in value-added exports currently less than 70 percent, experts say more local content is essential to a permanent break with the reassembly model.
"It's very, very important for Mexico to make that shift," said veteran investor Mark Mobius, who oversees $51 billion in emerging market assets at investment manager Franklin Templeton and is looking to increase investment in the country.
"You could add another one or two percentage points to (annual) economic growth because increasing productivity and a move to higher value-added means higher exports, more income and higher foreign reserves."
The new auto plants should boost vehicle production by almost a quarter by 2017, when IHS Global Insight predicts Mexico will become the top U.S. light vehicle importer.
In the last three years, manufacturing jobs in the four central states have risen 30 percent and the region posted faster growth than Mexico as a whole between 2009 and 2011.
Although transport, especially autos, is the main industry, L'Oreal opened its biggest ever hair color factory in San Luis Potosi in December, employing 400 people, and Beiersdorf is investing $130 million in Silao to make Nivea and Labello products like body lotion, lip balm and shower gel.
The world's largest yogurt maker, Danone (DANO.PA), is extending its facilities in Irapuato, near Silao, where new villas overlook an 18-hole golf course.
GROWING PAINS
But the central region faces growing pains as the flood of new operations puts pressure on labor supply and infrastructure and states will need to lift investment to support big new factories as well as the housing and services needed by workers.
Investment banker Carlos Sales, whose Cuasar Capital helped Aguascalientes secure $55 million to build extra gas pipelines and highway connections for a Nissan plant to open in late 2013, said investment would be easily recouped in extra tax revenue.
But more needs to be done. Australian investment bank Macquarie Group Ltd (MQG.AX), which specializes in infrastructure, said Mexico needed to accelerate plans to bring in gas from the United States and replace expensive, inefficient and dirty oil-fired electricity production.
"(Mexico has to) put in place the right structural parameters to let private investors come in and invest in those pipelines and make sure there is enough gas there to generate electricity and for industry that wants gas directly," said Mark Ramsey, head of Latin America for Macquarie Capital.
"There's not enough electricity generated for the growth that's expected."
($1 = 12.20 Mexican pesos)
(Additional reporting by Alexandra Alper, Gabriel Stargardter and Luis Rojas; Editing by Kieran Murray, Claudia Parsons and Leslie Gevirtz)