A mother of an autistic son who was allegedly set on fire after reporting threats made by her neighbors caused outrage among some Mexicans. However, prosecutors from the state of Jalisco stated on Tuesday that it could not even be the neighbors' responsibility.
The death of Luz Raquel Padilla, the 35-year-old mother of an autistic son, was one of a string of horrible murders of women in Mexico that authorities have yet to solve.
In May last year, Padilla asked for a restraining order against a neighbor. She complained about her neighbor's threatening behavior and graffiti that read "I'm going to burn you alive" on the apartment building walls where they lived.
The Mexican mother also expressed her displeasure with the neighbor's actions, such as playing loud music, which she claimed had a negative impact on her son's health. The Associated Press reported that her son's loud sounds had angered the neighbors.
The Mexican mother's plea for a restraining order was approved by a judge. The fact that she passed away while ostensibly under protection increased public outrage.
Luz Raquel Padilla reportedly had 90 percent of her body burned after being drenched in alcohol by three men and a woman on July 16.
Witnesses gave accounts of the four individuals who attacked Padilla at a Zapopan park. While Padilla was taken to a hospital, where she later passed away, the accused fled the scene.
In Mexico, several activist organizations condemned Padilla's passing and harshly criticized the police for their inaction. After she made the report and obtained the restraining order, they were meant to defend her.
Following her passing, several women organized a protest in front of the Zapopan police station, where she had filed the report. Authorities even arrested a man believed to be connected to her death. According to WION, he is the neighbor who is thought to have written the menacing message.
The neighbor who had been griping about her autistic son's ranting was also this one. Enrique Alfaro, the governor of Jalisco state, was also interested in the matter and declared that they are currently looking into it as a potential instance of femicide. Feminicide instances have recently increased in Mexico.
Luis Mendez Ruiz, the head prosecutor for the state of Jalisco, suggested on Tuesday that Luz Raquel Padilla may have set herself on fire.
Mendez Ruiz claimed that surveillance footage revealed Padilla had purchased two alcohol bottles and a lighter at stores close to the park, where she was later discovered burned.
Mendez Ruiz said the person in custody also has rights even though he did not want to "re-victimize or criminalize anybody" Authorities added that there was no proof the detained man had been anywhere near the scene of the Mexican mother's burning.
The jailed man's mother also approached the authorities to offer more proof of her son's innocence. According to Mendez Ruiz, the mother allegedly showed them security footage showing Padilla igniting paper outside her own door.
In another video, Padilla can be seen attempting to alter the camera position of her neighbor to obscure the staircase bearing the ominous warning. Mendez Ruiz claimed that the suspect's mother has been receiving threats due to her son's incarceration.
Violence against women has increased recently in Mexico. Protests have been organized by feminist organizations to pressure the government into taking action.
Despite President Andres Manuel López Obrador's claims that they are making progress in lowering the high homicide rates in the nation, crime rates in Mexico continue to be high.
The homicide rate for men dropped from 52 per 100,000 people last year to 50 per 100,000 this year, according to the Associated Press. However, the homicide rate for women stayed the same at around 6 per 100,000.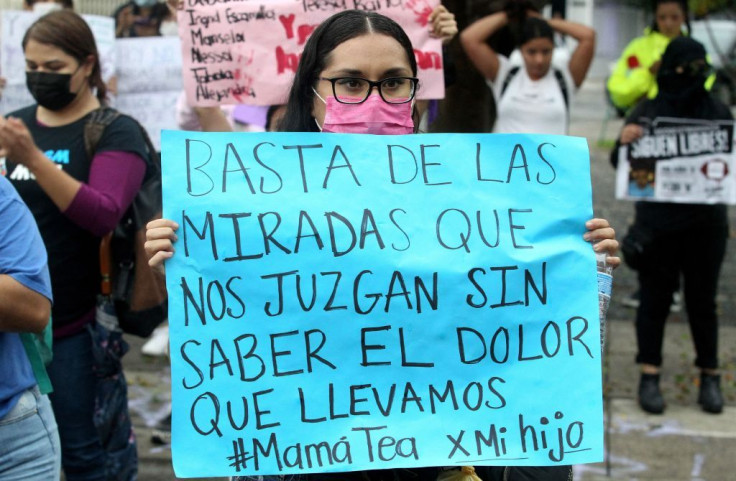 © 2023 Latin Times. All rights reserved. Do not reproduce without permission.