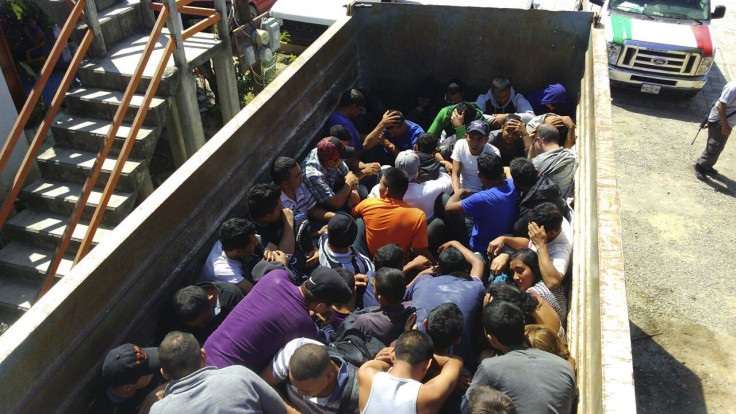 Mexican police discovered a semi-truck filled with 129 Central American migrants on Wednesday, according to officials. The truck was bound for the U.S. border. The driver, 29, was stopped after he allegedly changed into a lane of oncoming traffic, according to a Reuters source. The driver was detained, while the migrants were turned over to immigration authorities and will likely face deportation. Most were from Honduras, Guatemala and El Salvador, countries that are contributing an increasing number of emigrants to the U.S. as drug and gang-related violence increases in those nations. Some may apply for asylum.
"Even as overall deportations are starting to go down a bit, Central American deportations are up. Combined with efforts at drug enforcement that just makes things worse and empower some really bad folks, both in the U.S. and in Central American countries, and you've got a pretty toxic mix," says Kyle De Beausset, a native of Guatemala who works with faith and immigrant communities in the U.S.
The news of the 129 apprehensions followed an announcement on Tuesday by migrant activists in Mexico that they would protest the treatment of Central American migrants by the authorities. Mexican police begun a crackdown on foreign migrants in recent months, including forcibly removing them from freight trains, which are often utilized by those who can't afford transportation to the U.S. border. These policy shifts have dramatically increased incidents of robbery and assault perpetrated against migrants by Mexican gangs, according to Rev. Alejandro Solalinde of Ixtepec, who runs a migrant shelter, and spoke to Fox News.
Undocumented immigration along the U.S.-Mexico border has changed. In 2014, Central American migrants from Guatemala, Honduras, and El Salvador outnumbered Mexican migrants in U.S. border apprehensions for the first time, according to statistics released by U.S. Customs and Border Protection (CBP). Since apprehension are relatively random, they are an approximate measure of how many people are getting across the border undetected. However, they don't account for the estimated 40 percent of undocumented immigrants who overstay their visas
Twenty of the 129 migrants caught in the semi-truck were minors, according to Reuters. While they may be economic migrants, many could be asylum seekers, fleeing Guatemala, El Salvador, and Honduras not just for jobs, but for their lives. Most are headed to the U.S. However neighboring countries -- Mexico, Panama, Nicaragua, Costa Rica and Belize -- faced a sevenfold increase in asylum applications from those three countries between 2008 and 2013, according to a UNHCR report. In the U.S., some have advocated increased reception of unaccompanied minors on the grounds that they are fleeing vicious gangs. Others remain unconvinced.
"[It's unclear] why Central Americans being threatened by gangs would seek to escape via the migrant trail through Mexico, where gang violence is even worse. [The] Zetas of Tamaulipas massacred at least 265 migrants, mainly Central and South Americans, for failing to pay protection money [....] Taking your chances with the Zetas would be logical only if you were weighing the risk against an attractive goal such as joining your relatives in the U.S.," writes David Stoll, an anthropologist at Middlebury College.
© 2023 Latin Times. All rights reserved. Do not reproduce without permission.