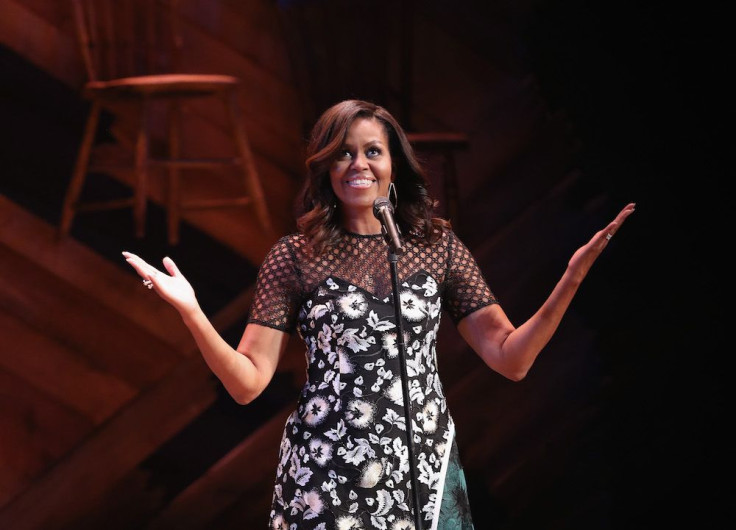 Former first lady Michelle Obama says she broke down shortly after leaving then-President Donald Trump's inauguration.
She said she cried uncontrollably when she boarded Air Force One for the last time on Jan. 20, 2017.
In a segment from the "Michelle Obama: The Light Podcast" Obama discussed her feelings on the day of former President Donald Trump's inauguration.
On Monday, a preview audio clip from the show was released on SoundCloud, reports Business Insider.
"When those doors shut, I cried for 30 minutes. Straight, uncontrollable sobbing, because that's how much we were holding it together for eight years," she said, describing what it was like boarding Air Force One for the last time at Joint Base Andrews.
"There were tears, there was that emotion. But then to sit on that stage and watch the opposite of what we represented on display — there was no diversity, there was no color on that stage," Michelle Obama said. "There was no reflection of the broader sense of America."
Michelle Obama also discussed what it was like to be required to witness Trump's inauguration.
"And many people took pictures of me and they're like, 'You weren't in a good mood?' No, I was not! But you had to hold it together, like you do for eight years," Michelle Obama added.
Michelle Obama admitted that it was "a lot, emotionally" to attend Trump's inauguration as one of the few people of color there in a July 2019 interview with CBS anchor Gayle King.
Trump became one of the few presidents to miss his successor's inauguration four years after taking office.
On Jan. 20, 2021, he boarded Marine One at the White House and flew to his Mar-a-Lago estate in Florida.
Michelle Obama also made fun of Trump over how many people attended his inauguration, which has long been a source of controversy for his administration.
The inauguration reportedly had the highest attendance ever, reports NDTV.
"You walk through the Capitol, you wave goodbye, you get on Marine One, and you take your last flight flying over the Capitol. Where there weren't that many people there, we saw it by the way," she added.
© 2023 Latin Times. All rights reserved. Do not reproduce without permission.