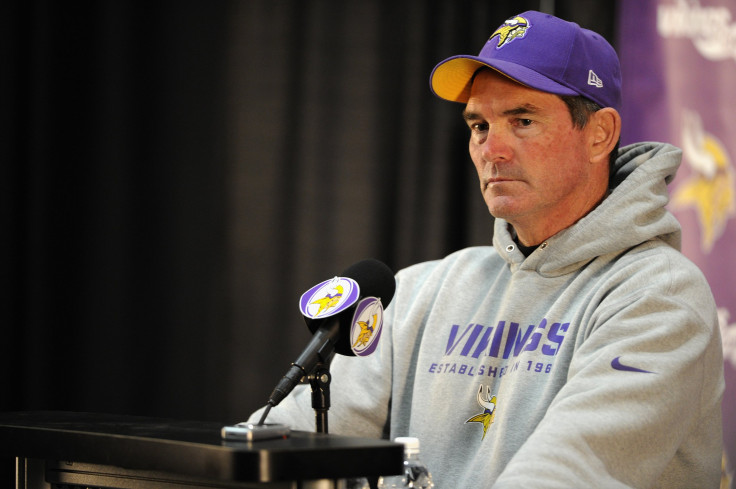 Things just keep getting worse for the Minnesota Vikings.
Not only have they lost five of their last six games, but now it turns out the Vikings could be without their head coach for Thursday's game against the Dallas Cowboys. According to NFL.com, Mike Zimmer may not be on the sidelines for the Cowboys game because of eye surgery.
"Mike Zimmer is having emergency eye surgery tonight. His status for coaching tomorrow's game is uncertain. I have met with the coaches and players and we have a contingency plan in place if Mike is unable to coach against Dallas," general manager Rick Spielman said on Wednesday.
Zimmer's Vikings have been in complete freefall mode since the team's Week 6 bye week. Since then the Vikings have just one victory, which came against the Arizona Cardinals in Week 11. Sam Bradford isn't playing anywhere near the level we saw him perform at in September, and now the Detroit Lions have extended their division lead in the NFC North.
"The doctors, after the game, they checked and had me get in for an appointment, and I found out that I had a torn retina," Zimmer said.
This is obviously a huge issue and it must be taken seriously. If Zimmer is unable to coach Thursday night, the Vikings will more than likely have offensive coordinator Pat Shurmur fill in. Regardless of who does coach, the No. 1 seed Cowboys are heavy favorites to win this game considering they have won 10 consecutive games.
If the Vikings can shock the NFL world and get a win over Jason Garrett's squad, they would move to 7-5, which would put them right back in the divisional chase with the Lions. A loss wouldn't completely end the Vikings season, but it would certainly make things tougher.
© 2023 Latin Times. All rights reserved. Do not reproduce without permission.