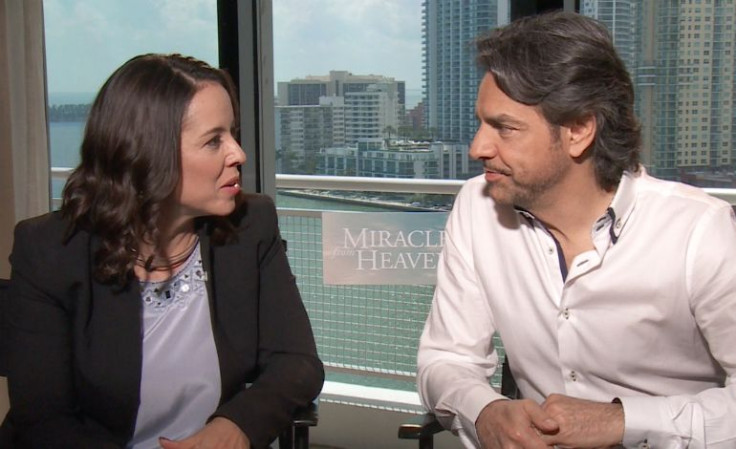 God, heaven, resurrection and faith are terms that are prohibited for those of little faith; film director Patricia Riggen and Mexican actor Eugenio Derbez recently discuss with Latin Times their latest spiritual journey in their new project "Miracles from Heaven," an incredible drama that's based on a true story. "The first movie we made together was under the same moon," Riggen said about her experience of working with the successful comedian who recently received his star in Hollywood,"it was a very successful movie; Eugenio was a different character and this time around he's creating a real life character who has beautiful characteristics and he did a great portrayal on this person."
The main character of the film experiences a supernatural power that heals her from a chronic intestinal disorder; after she faced a near-death experience. Derbez plays the gastroenterologist pediatrician, Dr. Samuel Nurko, someone who in real life has to work with children who are terminally ill. "When I was training for this role, I toured the hospital with Dr. Garza and I met a lot of the kids that had the same incurable disease that Annabel Beam had," the actor added that "it was very heartbreaking" to see all of these actual cases. We consequently asked them about what kind of heaven they believe in, both Patricia and Eugenio agreed there is life after death but the representation of the promise paradise is very different for everyone. "I think nature connects you with the universe," Derbez said,"every time I'm in contact with nature I feel like that's the real heaven."
This film is providing both artists an amazing platform to break stereotypes in the industry; "we are so fed up with always being the bad guy, the criminals and being portray negatively that when we have the opportunity to bring to Latinos a beautiful portrayal we have to supported," the director said about the message she wants to send to the Hispanic community in Hollywood."Never lose faith, this is what this movie is about," Derbez said, telling inspiring artists,"this career is very hard and you have to be stubborn and perseverant because when you want to be an actor you will see rejection ninety percent of the time." Check out the full interview above and don't forget to watch the film "Miracles from Heaven" in movie theaters now.
© 2023 Latin Times. All rights reserved. Do not reproduce without permission.