Top video game company Activision Blizzard is under fire after being accused of fostering an abusive "frat boy culture" of severe harassment and discrimination against its female employees, according to a bombshell lawsuit filed last week by the California Department of Fair Employment and Housing (DFEH) in the Los Angeles Superior Court.
The DFEH lodged the 29-page complaint against the company behind "World of Warcraft" and "Call of Duty" last week after a two-year probe revealed widespread sexual harassment, retaliation, and discrimination, CNN reported. Activision, however, vehemently denies all the allegations.
It further exposed that the video game maker "fostered a sexist culture," in which female staff would earn less than their male counterparts doing substantially similar or less work on some occasions.
The complaint contends that most male employees would play video games for long periods during work, ultimately delegating their responsibilities to female employees, the BBC noted.
Just 20 percent of Activision Blizzard's 9,500 employees are women, with leadership at the gaming giant largely composed of white males, according to the legal filing. The company is also accused of promoting women more slowly yet terminating them quicker than the men workers.
Most of the company's female employees have also reportedly confirmed that working for Activision Blizzard paralleled working in a fraternity house.
"In the office, women are subjected to 'cube crawls', in which male employees drink copious amounts of alcohol as they 'crawl' their way through various cubicles in the office and often engage in inappropriate behavior toward female employees," the filing reads.
The DFEH also slammed the company, accusing the management of targeting vulnerable women of color for discriminatory practices. It revealed how a female employee, who was shouldering managerial responsibilities, requested a pay increase and promotion but was instead discriminated against for being a woman.
Her male manager allegedly noted that her tendency to get pregnant and become a mother were risks the company would not take, thus, refusing to offer her a promotion and pay rise.
One female employee had even killed herself "due to a sexual relationship with her male supervisor", the DFEH contended. She had reportedly gone on a company trip with him, where her male colleagues "passed around" her intimate photos from a previous party, causing her too much distress.
The department moved to call it a "tragic" example of the harassment that company allowed to fester within the workplace.
Hundreds of workers gathered outside the company's headquarters in Irvine, California, on Wednesday morning as others took part in a virtual protest while unable to attend in person.
They were demanding the company to improve working conditions for female employees, particularly women of color and transgender women, non-binary people, and other marginalized groups, The Guardian reported.
There were also mounting calls to dissolve the mandatory arbitration in employee contracts, which prevent workers from taking conflicts with their employer to court. It also deprived them of the right to access policies to improve the representation of women and marginalized groups, disclose salary information, and call for an audit of Activision Blizzard by the diversity, equity, and inclusion task force.
On Tuesday, Activision Blizzard CEO Bobby Kotick apologized for the company's initial "tone deaf" response to the DFEH lawsuit and vowed to take swift action.
"I want to recognize and thank all those who have come forward in the past and recent days. I appreciate your courage. Every voice matters – and we will do a better job of listening now, and in the future," according to Kotick's letter to staff posted to the company's website.
Kotick said additional staff will be called in to investigate the allegations, hold listening sessions, evaluate company executives, and tackle its hiring practices.
A spokesperson said the company supports the workers' right to walk out and is committed to change what is seen as a "frat boy culture" of harassment and discrimination against women in their workplace.
"We are fully committed to fostering a safe, inclusive and rewarding environment for all of our employees around the world. We support their right to express their opinions and concerns safely and respectfully, without fear of retaliation," the spokesperson noted.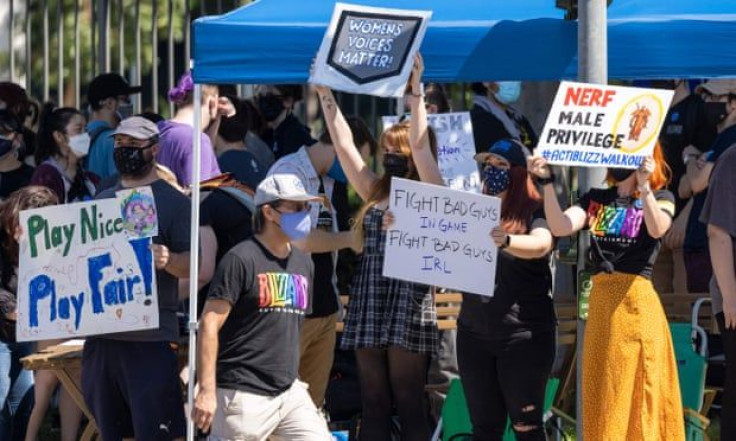 © 2023 Latin Times. All rights reserved. Do not reproduce without permission.