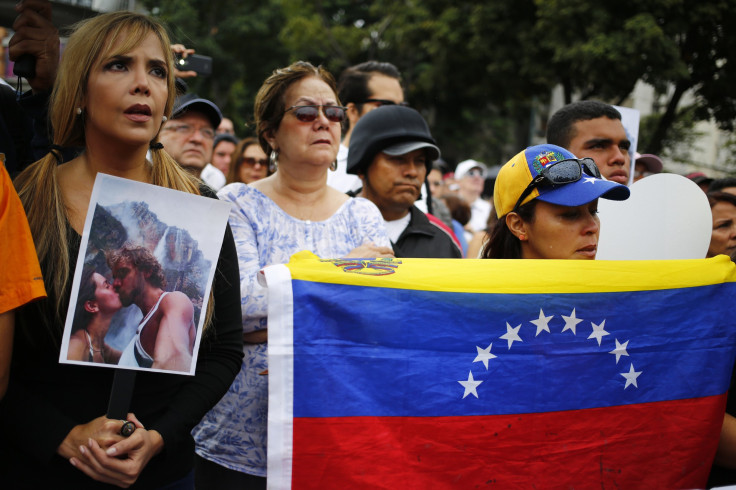 The death of Mónica Spear, 29, shocked the nation of Venezuela, and now the three men who confessed to the murder of the 2004 Miss Venezuela have been sentenced to long prison terms. According to Fox News Latino, the three men who confessed to not only slaying Mónica Spear but also her British ex-husband Thomas Henry Berry were sentenced to more than 20 years in prison. The sentences were delivered in a court in Valencia on Tuesday, the location nearby where Spear and her husband were brutally shot and killed in front of their five-year-old daughter during a roadside robbery. The three defendants plead guilty to the crime; in addition the prosecutors revealed that the three assailants were known associates of a larger gang, which specifically targeted motorists who traveled along a highway leading from Valencia to Puerto Cabello in Venezuela.
The tragic crime occurred in January when Spear, Berry and their daughter Maya, were on vacation visiting Spear's family in her native Venezuela. The family, who lived in the United States, was traveling on the highway at night from the city of Merida to the capital of Venezuela, Caracas. During the ride, the couple's car hit a sharp object, which resulted in two punctured tires, unable to drive, the family waited for roadside assistance when they were ambushed. The family stayed within the car despite the robbers attempts, tragically the three men shot into the vehicle killing Spear and Berry instantly and injuring young Maya's leg.
According to BCC, the sentences for the now convicted murders range between 24 and 26 years in prison. Following the shocking death of Spear, who was revered in the country, President Nicolas Maduro assured the nation he would respond with an "iron fist" and stated that he would tackle the rampant crime that has plagued the country. Figures supplied from the United Nations affirm Venezuela's high crime reputation; the country has the second-highest peacetime murder rate in the world. Just last week, on the International Day of Peace, Maduro announced that the Venezuelan government would invest $47 million dollars to create 60 new disarmament systems in addition to a full fledged plan to disarm civilians.
© 2023 Latin Times. All rights reserved. Do not reproduce without permission.