A mother and her child tragically died that broke out early Wednesday morning at their home in Manila, Philippines.
Bureau of Fire Protection-National Capital Region (BFP-NCR) identified the victims as Frencelyn Batol De Leon, 35, and Precious De Leon, 6.
Second-degree burns were also sustained by a man named Jonel Mandap, 36. For treatment, he was taken to Jose Reyes Memorial Medical Center.
Officials recorded a fire at 6:13 a.m. (local time) at a home on Elias Street. According to GMA News Online, the victims' neighbors heard a series of explosions from the house before the fire.
Quoting the witnesses, BFP said the victims were trapped inside the house where the fire began.
After five minutes, it went to a second warning. Witnesses said they saw the mother and child attempting to flee through a window with grills.
Later they saw the mother and daughter waved at the window and asked for help. They can't get out of there because their windows have grills.
Roderick Suarez, the barangay chairman, told TV5 that the kid tried to hold on to the grills and the mother fell while the firefighters are extinguishing the fire.
Unfortunately, mother and child were unable to make it alive. Hours later, firefighters discovered their burnt bodies.
Authorities declared the fire under control at 6:41 a.m., and firefighters extinguished it at 6:55 a.m.
The fire displaced at least five families.
Damages are estimated to be worth around P100,000.
An aircon explosion in one of the four apartment units is said to cause the fire. Suarez said the aircon's faulty wiring could be the cause of the fire.
Meanwhile, another fire broke out in a residential area near Tutuban Center in Tondo, Manila just after midnight on Wednesday. Fortunately, no one was hurt.
The second floor of Norma Agulan's house was engulfed in flames. Because the other shelters in the area were made of light materials, the fire spread quickly.
Residents quickly removed the LPG tanks from a nearby store to avoid an explosion and further damage.
Authorities noted the fire at 2:32 a.m., followed by a second alarm three minutes later. The fire hit the third warning at 2:44 a.m.
Firefighters declared the fire under control at 4:36 a.m. and fully extinguished the fire at 5:18 a.m.
BFP said they failed to extinguish the fire due immediately due to a water shortage in nearby fire hydrants.
It caused property damage of up to P500,000, with just a few minor injuries.
The BFP is still investigating the cause of the accident.
Affected residents stayed in the barangay's covered court for the time being.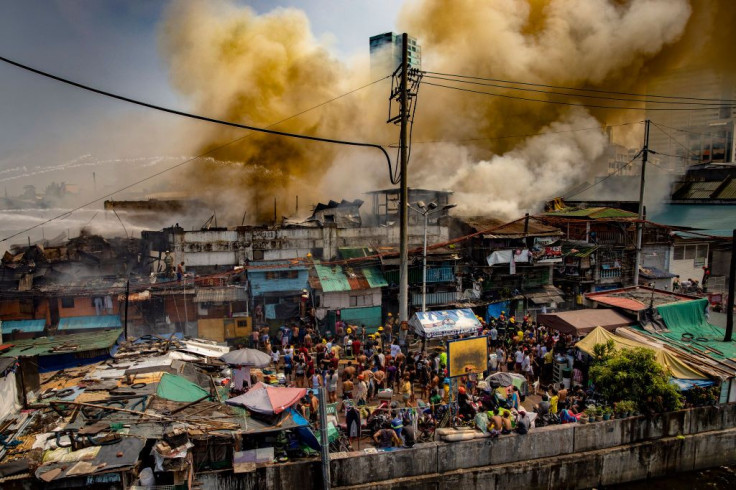 © 2023 Latin Times. All rights reserved. Do not reproduce without permission.