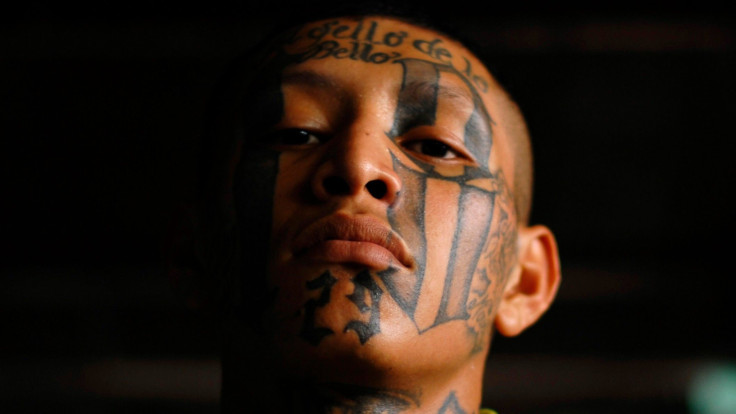 More than 50 suspected members of MS-13 were indicted on Friday, most arrested in a series of simultaneous raids and around Boston. The dozens indicted on Friday are accused of one or more of the following crimes: murder, racketeering, drug trafficking and immigration violations. The transnational gang, also known as Mara Salvatrucha, was founded by El Salvadoran immigrants in Los Angeles in the late 1980s. Deportation policies aimed at breaking up the gang in the 1990s and 2000s actually helped it spread, first to Central America and then to more than 40 U.S. states.
Looking through the long list of indictments released by the Department of Justice, some patterns stand out. Four dozen suspected gang members are in their teens and 20s. Only the older arrestees are accused of conspiracy to commit drug trafficking. And everyone has a nickname. Some have a gangster flair but are cliche or underwhelming. There's "Vida Loca," "Crazy," and "Street Danger," "Hollywood," "Playa" (beach) and "Manny," according to the DOJ indictment.
Others monikers of the suspected gang members range from the innocuous -- "Catracho" (Honduran man), "Casper," "Smiley," "Flaco" (skinny), "Gorto" (fatty) -- to the zoological -- "Cuervo" (crow, but maybe a tequila reference), "Lobo" (wolf), "Animal," "Tigre" (tiger) and "Gallito" (little rooster, possibly a beer reference).
Yet some of the nicknames are simply insane. If the goal of these narco and RICO soldiers is to intimidate street rivals, some stick out. worst seem to pulled straight from the entrails of horror films. Here are the 10 scariest names on the list.
1) "Psycho": Already a horror film.
2) "Violento" (violent): 'nuf said.
4) "Muerto" (dead, or dead man): Dead Man was not a horror film, but it was still creepy.
5) "Chucky": From the title character -- "As a doll, I'm f**king infamous! I'm one of the most notorious slashers in history! And I don't wanna give that up. I am Chucky, the killer doll!
6) "Demente" (demented)
7) "Diablito" (little devil)
8) "Chapin" (the Guatemalan): a scary reminder that MS-13 recruitment is expanding into Guatemala and Guatemalan-American communities.
9) "Sangriento " (bloody; gory)
10) "Siniestro" (sinister)
© 2023 Latin Times. All rights reserved. Do not reproduce without permission.