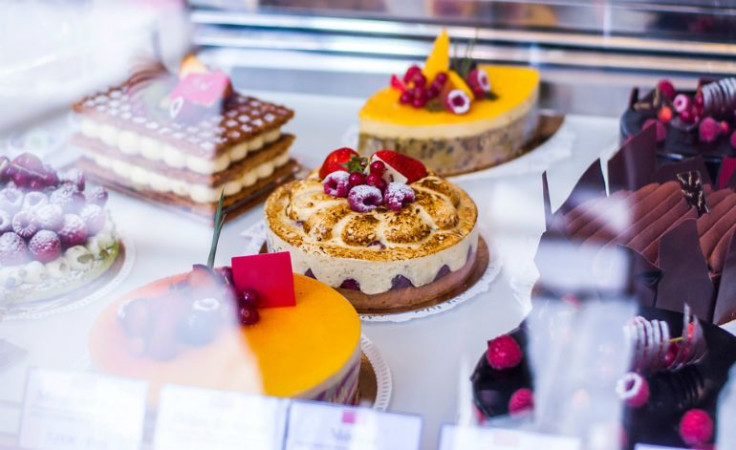 Today is National Dessert Day! In honor of the annual celebration, we're sharing five of our favorite Latino-inspired treats. From churros, to tres leches, there's just something about dessert that makes us feel all happy inside. Check out our list above for deliciously creative dessert ideas you can make at home.
Coffee Churros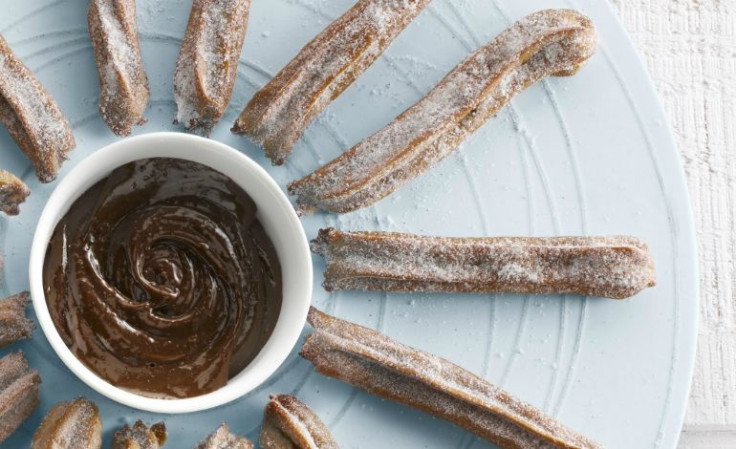 Ingredients
1 cup water
1 1/2 tablespoons NESCAFÉ Café de Olla Instant Coffee Beverage Granules OR NESCAFÉ CLÁSICO Pure Instant Coffee Granules
1/3 cup unsalted butter
2 tablespoons packed light brown sugar
1/2 teaspoon salt
1 cup all-purpose flour
3 large eggs
1/2 teaspoon vanilla extract
1/4 cup granulated sugar
1 teaspoon ground cinnamon
Abuelita Dipping Sauce (recipe follows)
1 can of dulce de leche Nestlé LA LECHERA
Preparation:
Preheat oven to 425° F. Cover large baking sheet with parchment paper; set aside.
Heat water, coffee granules, butter, brown sugar and salt in a medium saucepan over medium heat, stirring occasionally, until butter is melted and sugar is dissolved. Stir in flour with a wooden spoon until dough is smooth and pulls away from pan. Remove from heat.
Mix in eggs one at a time incorporating completely after each addition. Stir in vanilla extract. TRANSFER dough to a resealable gallon-size plastic bag fitted with a star-shaped, size 7 pastry tube (such as Ateco or Wilton). Pipe dough into 4-inch long, 1-inch wide tubes on prepared baking sheet. Leave about 2 inches of space between the churros.
Bake for 12 to 15 minutes or until slightly puffed and firm to the touch. Turn oven to broiler setting; broil for 2 minutes or until churros are slightly crispy. Remove from oven; transfer to wire rack. COMBINE granulated sugar and cinnamon in a long dish. Roll churros in mixture. Serve warm with Abuelita Dipping Sauce.
Abuelita dipping sauce
1 tablet NESTLÉ ABUELITA Chocolate OR 5 tablespoons NESTLÉ ABUELITA Granulated Chocolate Drink Mix
1/3 cup NESTLÉ LA LECHERA Sweetened Condensed Milk
2 tablespoons NESTLÉ® CARNATION® Evaporated Milk
Preparation: Heat Abuelita chocolate, sweetened condensed milk and evaporated milk in a small saucepan over low heat, stirring constantly, for about 5 minutes or until chocolate is completely dissolved. Serve warm.
Alfajores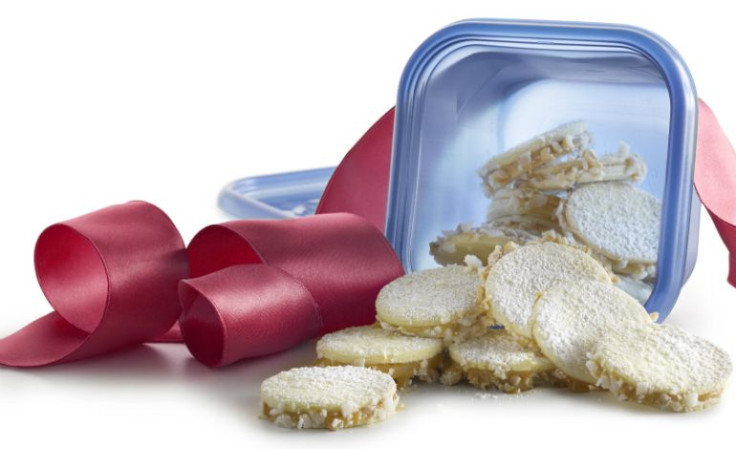 Ingredients
1 1/4 cups cornstarch
1 cup all-purpose flour
1 teaspoon baking powder
1/2 cup (1 stick) unsalted butter
3/4 cup granulated sugar
2 large egg yolks
1 tablespoon grated lemon zest (1/2 lemon)
2 tablespoons brandy or cognac
Powdered sugar
Finely shredded coconut, ground nuts or cocoa powder (optional)
1 can of dulce de leche Nestlé LA LECHERA
Preparation:
Stovetop Pour 1 can (14 oz.) CARNATION Sweetened Condensed Milk into top of double-boiler set over water or in a large metal bowl set over a saucepan of water.
Add lime peel and cinnamon stick.
Bring water to a boil. Reduce heat to low. Cook, stirring occasionally for 2 hours, or until thick and caramel colored. (Some additional water will be needed for bottom pan of double boiler).
Remove from heat; remove lime peel and cinnamon stick.
Sift cornstarch, flour and baking powder together into medium bowl.
Beat butter and sugar in a medium mixing bowl on medium speed until creamy. Add yolks; mix well. Add lemon zest and brandy.
With wooden spoon, mix cornstarch mixture into butter mixture to make a soft dough. If it is too soft (should not be runny), add some additional flour.
With floured hands, form dough into a ball. Cover with plastic wrap; refrigerate for 30 minutes. PREHEAT oven to 350º F. Grease large baking sheets.
Roll dough on lightly floured surface to 1/8-inch thickness. Cut dough into at least 34, 2-inch circles. Some rerolling will be necessary.
Place circles on prepared baking sheets.
Bake for 10 minutes or until set. They should not brown. Remove to wire racks to cool completely. SPREAD about 2 teaspoons Caramelized Milk to flat side of half the cookies.
Top with remaining cookies to form sandwiches. If desired, allow some of the Caramelized Milk filling to squeeze from the sides or spread more around the sides to roll in coconut, nuts or cocoa. Sprinkle tops and bottoms with sifted powdered sugar. These cookies will keep in the refrigerator for several days or up to 3 months in the freezer.
Peruvian Dulce De Leche Jelly Roll (Pionono)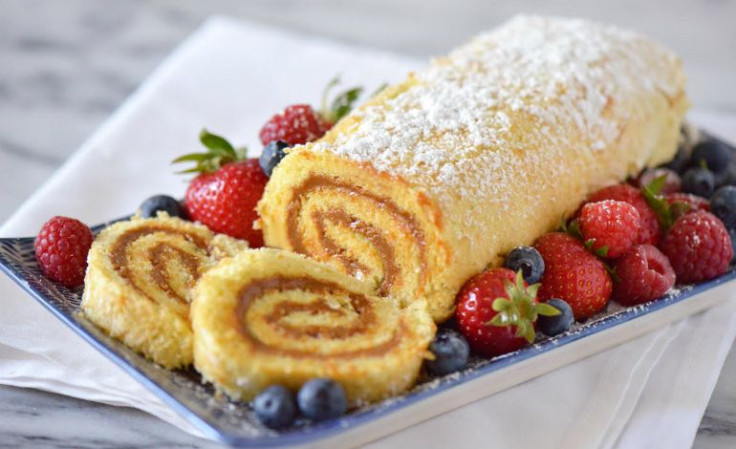 Ingredients
Nonstick cooking spray
5 large eggs, at room temperature
1/3 cup granulated sugar
1 teaspoon vanilla extract
1 teaspoon grated orange peel
1/8 teaspoon salt
1/3 cup self-rising flour
4 tablespoons powdered sugar,divided
3/4 cup NESTLÉ LA LECHERA Dulce de Leche
Fresh berries
Preparation:
Preheat oven to 350° F. Spray 15 x 10-inch jelly roll pan with nonstick cooking spray; line with parchment paper. Beat eggs in medium mixer bowl on medium speed until creamy and thick.
Add granulated sugar one tablespoon at a time. Continue beating for about 5 to 7 minutes. Mixture should be thick and creamy. Add vanilla extract, grated orange peel and salt. Beat for 10 seconds. SIFT flour into the egg mixture, carefully folding in with a spatula. Pour into prepared jelly roll pan; spread evenly with a spatula.
Bake for 12 to 15 minutes or until cake springs back when pressed. Remove from oven; let rest for 5 minutes.
Lay out a clean kitchen towel that's larger than the jelly roll pan; sprinkle with 2 tablespoons powdered sugar.
Flip cake onto towel, gently peel off parchment paper and roll cake in towel starting from short side. Set aside; cool completely for 2 hours.
Unroll cake; cut off rough borders with a sharp serrated knife.
Warm dulce de leche in a small saucepan over medium-low heat, stirring constantly, for about 3 minutes or until a thick pourable consistency has been reached. Pour dulce de leche over cake, spread evenly with a spatula. Roll cake without towel and transfer to a small platter or large serving plate. Refrigerate for 1 hour.
Sprinkle with remaining 2 tablespoons powdered sugar. Slice with sharp serrated knife or unflavored dental floss and serve with berries.
Tres Leches Cake by Pati Jinich from Pati's Mexican Table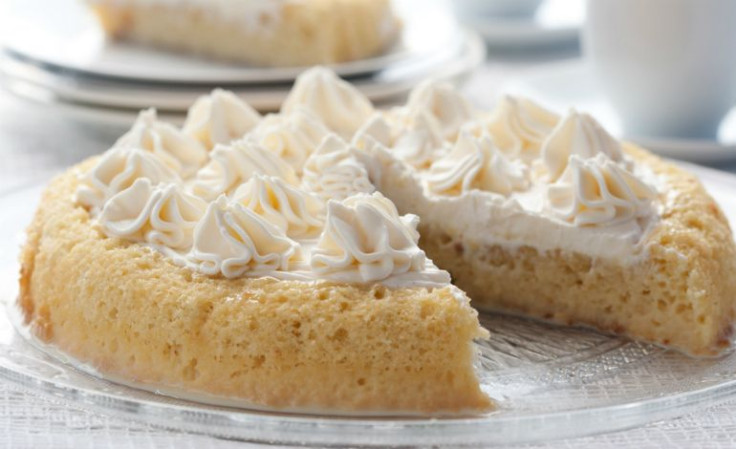 Serves: 10-12
Ingredients
For the cake
9 eggs, separated
1 cup sugar
1 tablespoon vanilla extract
2 cups all purpose flour
For the sauce
1 14oz can La Lechera sweetened condensed milk
1 12oz can evaporated milk
1 cup milk
1 tablespoon vanilla extract
For the topping
2 cups heavy whipping cream
1/4 cup confectioners' sugar
Preparation: Preheat oven to 350 degrees. Butter a 9 x 13 inch pan, lining the bottom with a piece of parchment paper cut to fit the pan.
Pour the egg whites into the bowl of your mixer and beat on medium-high speed for 4 to 5 minutes, or until they hold soft peaks. Slowly stir in the sugar and continue beating until they hold hard or more stiff peaks. Turn off the mixer and with a spatula, move the egg white mixture onto a large mixing bowl.
Rinse the bowl of the mixer and its whisk. Now pour the egg yolks into the bowl of the mixer and beat on medium-high speed for about 5 to 6 minutes, or until the egg yolks become creamy, puffy and their color has toned down to an almost cream color rather than a loud yellow. Stir in the vanilla and continue beating for another minute. Turn off the mixer.
Pour the egg yolk mixture onto the egg white mixture and with a spatula, in evolving motions, combine them into a homogeneous single batter. Do so gently trying not to lose much volume from the mixture. When fully combined, fold in the flour, scraping the bowl with the spatula so that all the flour is well mixed.
Pour the batter into the prepared cake pan and place into the oven for 22 to 25 minutes, or until a toothpick comes out clean. It can be a bit moist, but not wet. The top of the cake should be tanned and feel fluffy if you touch it. Remove it from the oven and let it cool.
Once it cools down, turn it onto a platter. Remove the parchment paper and cover the top with an upside down platter and invert again. The platter should be large enough to hold the cake and the vanilla sauce you are about to prepare. Using a fork, or two, poke wholes all over the cake so that it will better absorb the vanilla sauce.
In a mixing bowl, combine the sweetened condensed milk, evaporated milk, milk, and vanilla extract. Pour the vanilla sauce over the cake.
In the bowl of your mixer, whip up the heavy cream with the confectioners' sugar on medium-high speed until the mixture holds up stiff peaks, about 1 to 2 minutes. Spread the whipped cream all over the already wet cake. Then yum, eat it all up.
Fruit Salad with Cheese from "Que rica vida."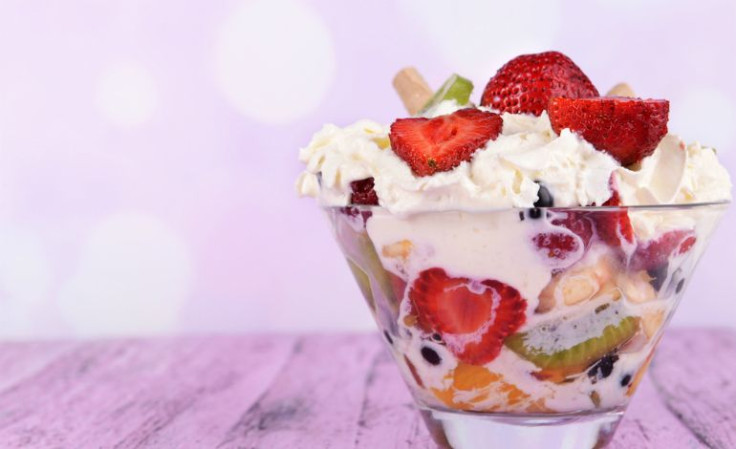 Ingredients
1 cantaloupe
1 green apple
1/2 lb strawberries
1 banana
1 orange
1 cup condensed milk
1 cup grated queso fresco
Preparation: Cut the cantaloupe in half, remove the seeds and the pulp with a knife. Dice it and set aside, peel and dice the green apple.
Slice the strawberries and banana, squeeze the orange in a deep container and mix the juice with condensed milk.
Mix all the fruits and place them in the hollowed-out melon halves and sprinkle with the orange juice and condensed milk mix, and top with grated cheese.
© 2023 Latin Times. All rights reserved. Do not reproduce without permission.