The Boston Celtics know they have to pull some strings to get their finances together and that came in the form of the Even Fournier deal.
The Celtics sent Fournier to the New York Knicks in a sign-and-trade deal. The agreement also includes Boston's 2023 second-round pick, a conditional 2022 second-round draft pick (via the Charlotte Hornets, top-55 protected).
In return, the Celtics received cash considerations.
But the kicker here is the sign-and-trade route. Boston could have just let Fournier head to the Knicks outright. However, there is something deeper to what just went down.
The sign-and-trade deal is similar to what the Celtics pulled off when they sent Gordon Hayward to the Charlotte Hornets. That generated them $28 million, something that ironically netted them French swingman.
Boston now has an updated $17.1 million TPE which they could use at some point moving forward. They can wait until next summer to use that, meaning the big moves of the Cs could happen by 2022.
That means they could dip their hands in the market and take in a player who can fit into that $17.1 million trade player exception option. Also, it is worth noting that the Celtics are projected to have $25 million from the tax line in 2022.
Considering the Celtics are now stacked with the coming of Kris Dunn and Dennis Schroder, sending away Fournier to the Knicks makes a bit of sense. Boston is up against the salary cap this season with its current roster.
As for Fournier, the 28-year-old got a four-year deal worth $78 million. The fourth-year is a team option. He was officially introduced by the Knicks in a press conference, ironically alongside another former Celtic in Kemba Walker.
Although Fournier struggled with injuries last season, he still managed to put up good numbers. That included averages of 17.1 points, 3.4 assists and 3 rebounds per game when he played for the Orlando Magic and the Celtics.
Fournier becomes the latest player to be signed by the Knicks. Nerlens Noel and Walker have already been signed to new contracts, leaving the likes of Derrick Rose, Alec Burks and Taj Gibson as the only ones who have yet to get new deals.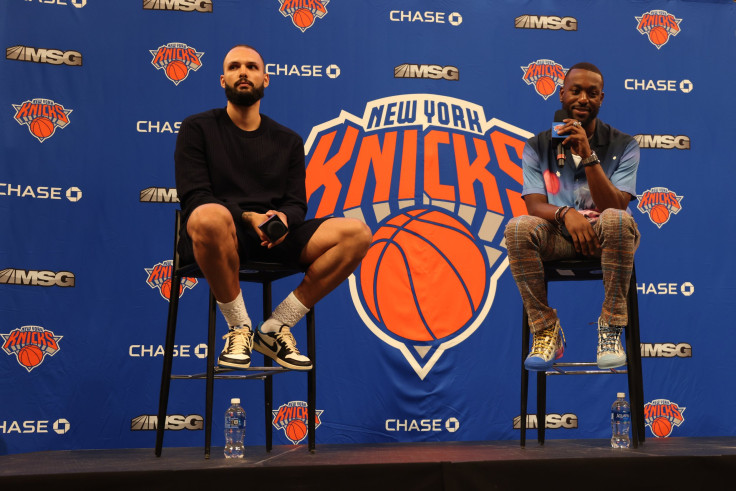 © 2023 Latin Times. All rights reserved. Do not reproduce without permission.