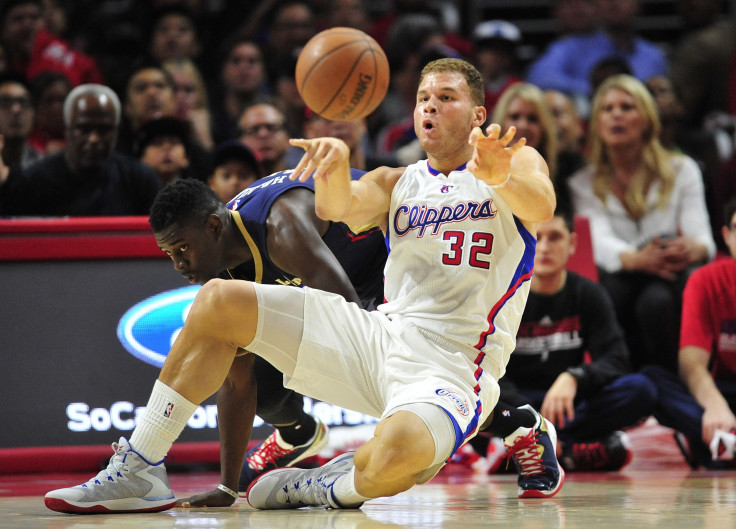 LOS ANGELES –- Before the game Clippers head coach Doc Rivers said he was not worried about New Orleans Pelicans breakout star Anthony Davis because he had a defensive stopper of his own: Blake Griffin.
Griffin dominated the battle of the league's top two power forwards with 30 points and 7 rebounds compared to his counterpart, Davis who scored a quiet 26 points and came down with just three rebounds.
"It is exciting anytime you get to go up against a player of that type of caliber. He is an amazing player," said Griffin of Davis.
Griffin continued his torrid pace passing the ball as well as he finished the game with 5 assists and the Clippers won their 7th consecutive game 120-100 in front of a sell out crowd at Staples Center.
"Blake was great defensively. Our defense in the first quarter was as good as you are going to get," said Clippers coach Doc Rivers. "We were always in the right place and we had many deflections. On offense we had great ball movement. Our team likes to score, but they started to understand that the more stops you get, the more rhythm you have offensively."
J.J. Redick started hot for the Clippers with three three pointers and 13 points in the first quarter and Los Angeles lead 34-18 after one.
The Pelicans would come back in the second quarter behind a hot shooting Ryan Anderson and Luke Babbit who combined for six three-pointers and the game was tied at the half.
"We were digging out of a hole even from the beginning. We have to do a better job coming out of the gate," said Babbit. "That is a good team playing at home and they are playing in rhythm right now. They have played well for the past couple of weeks. No excuses, but that is a really good team."
The Clippers came out hot in the second half behind superstars Chris Paul and Griffin and they worked the pick in roll to perfection as they opened up a double-digit lead going into the 4th quarter.
Paul had a game high 16 assists as the Clippers floor general looked for his teammates often as he picked apart the Pelicans defense. The Clippers finished the game with 34 assists and 17 three-pointers
"Guys are finding each other," said Paul after the game. "Blake has been an unbelievable assister. DJ [DeAndre Jordan] is on the glass. I think we are starting to find ourselves but we still have a ways to go."
Anthony Davis led the way for New Orleans, but nearly half his points came at the end of the fourth quarter in a game that was already long over by then. The Clippers focused on keeping Davis out of the paint and it worked to perfection, as the defensive combination of Griffin and Jordan was a nightmare for the young star. Asked whether he could use a game against a four-time all star like Griffin as a measuring stick for himself, Davis said:
"I just go out there and play. I don't worry about who is guarding me or who is guarding who. I try to worry about the team and what I can do offensively and defensively to help the team win. It's not me versus Blake, or me versus whoever. It's the Pelicans versus whatever team we are going to play."
New Orleans has now lost seven of the last eight games against the Clippers at Staples center.
Clippers head coach, Doc Rivers, went head to head with his son Austin, who finished the game with 8 points on 3-8 shooting. Before the game Doc said that he would give his son a hug after the game and take him out to dinner if he wasn't upset about the loss.
Game Notes:
Los Angeles improved to 20-1 when they dish out at least 30 assists in the game. They had 34 against the Pelicans. Griffin's layup in the second quarter gave him 7,001 points, making him the second fastest player in Clippers history to reach that mark.
© 2023 Latin Times. All rights reserved. Do not reproduce without permission.