Carmelo Anthony knows how it feels to be left out of an NBA season. For the 2020-21 wars, he is in the same predicament anew after finishing off his deal and is now a free agent.
Considering he made a good account of himself last season, former head coach George Karl believes it would be best for him to stay with the Portland Trail Blazers. Karl gave his take when he appeared on Sirius XM NBA Radio.
Anthony missed almost the entire 2018-19 season, playing only 10 games with the Houston Rockets. It took him nearly 10 months to hook up with a new NBA team which was the Portland Trail Blazers. There were a lot of questions in the air, most feeling he would be a risky addition due to his knack for wanting the ball in his hands the majority of the time. But to the surprise of most, Melo showed he could be effective and willing to adjust.
In 58 games where he started, Anthony averaged 15.4 points, 6.3 rebounds and 1.5 assists in 32.8 minutes of action per Basketball-Reference.com. Considering he was almost a forgotten player, the 10-time NBA All-Star proved that he could still play although at a toned-down role.
With that performance, Anthony is expected to get his share of suitors. Should he join a new club, it would be a new risk for the 3rd overall pick of the 2003 NBA Draft. As far as Karl is concerned, why leave a team which took a chance and where he was able to reinvent himself?
"It seems like him and [head coach] Terry [Stotts] have a connection and a communication level that I haven't seen with Melo at a lot of his stops along the way in his career. And he fit with the team. And why try to figure it out some place else when you got a good place, good team that's close to being really good? I would recommend him going back to Portland," Karl said.
However, Anthony will have to lower his expectations anew. At 36, he is likely to play behind the likes of Zach Collins, Rodney Hood or even Trevor Ariza. This hints at Melo getting lower minutes on the floor. If that does not sit well with him, he may bite the bullet and take his chances somewhere else.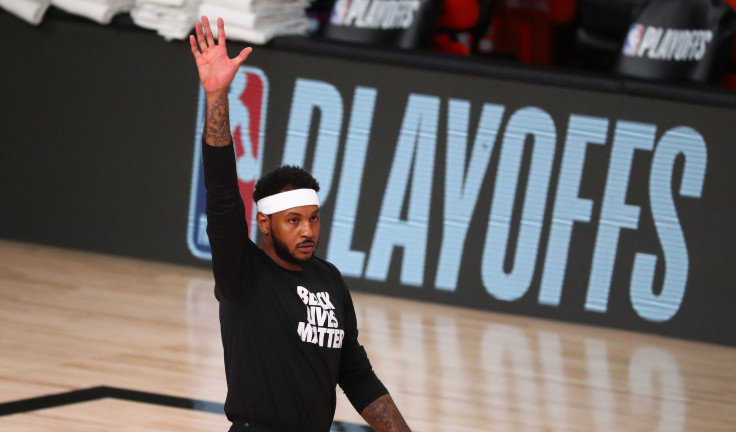 © 2023 Latin Times. All rights reserved. Do not reproduce without permission.