The Philadelphia 76ers continue to find ways to deal with Ben Simmons. The former top pick made it clear he wants out but there is his huge salary that stands in the way.
Beyond Simmons, the Sixers have other matters on the table. There is the $8 million traded player exception (TPE) they have to worry about, something that could go up in smoke by Tuesday, Sept. 7.
The said TPE is the one the 76ers hold in last year's Al Horford deal. The exception, created when Horford was sent to Oklahoma City in December, is worth $8,190,134.
For those who may not be aware, TPEs allow teams to absorb salary without sending outgoing salary for matching purposes. But the thing here is that there is an expiry date tied to them.
The TPE could help the Sixers in dealing with Simmons. But this depends entirely on how Philly structures a package and closes a deal. Given that they have less than 24 hours to do so, it will be interesting with the 76ers do soon.
As for Simmons, it appears the tension is rising from within. According to Keith Pompey of the Philadelphia Inquirer when he appeared on the 97.5 The Fanatic podcast, the 6-foot-11 cager took exception to the remarks made by Sixers head coach Doc Rivers following their game 7 Eastern Conference semifinals loss to the Atlanta Hawks.
"I don't even know the answer to that right now," Rivers said in response to a question on whether Simmons could be a point guard for a championship team.
Rivers never apologized or was reprimanded for that remark. But for any player to read that, it was a swipe indicating that the Aussie was not wanted in the team.
There are teams interested in taking in Simmons. But the big problem right now is how to absorb that hefty $147 million contract he owns. He is due to make $33 million this 2021-22 NBA season, The Athletic reported.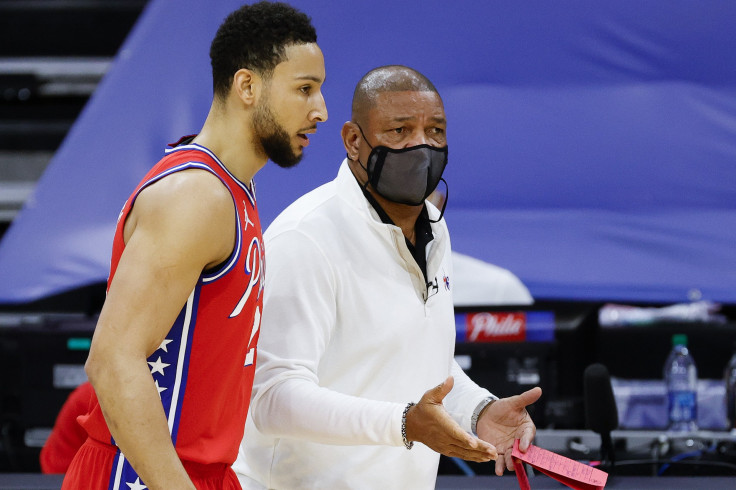 © 2023 Latin Times. All rights reserved. Do not reproduce without permission.