Russell Westbrook was benched once again, this time in the fourth quarter in the Los Angeles Lakers' loss to the Milwaukee Bucks, 131-116.
Although he had a better showing with 10 points, 10 rebounds and five assists, he also had four turnovers. Hence, head coach Frank Vogel may have deemed this as unacceptable, a reason why he opted to relegate Westbrook to the bench rather than take a chance on him on the floor.
After getting benched against the New York Knicks for good reason since the Lakers won that match, the same cannot be said against the Bucks. Hence, it comes as no surprise that Westbrook somehow reacted to the move of Vogel this time around.
"You never know when you're coming in, you never know when you're coming out. You never know when you're playing, you never know… a bunch of things. And I'm speaking for me personally, so it's a difficult process to be able to figure out and create some rhythm and some consistency where we can actually see what we're able to do as a team, but those decisions are made by him and his coaching staff, and you've got to live with it and move on," Westbrook said.
Westbrook was also asked if he and Vogel discussed when he would be pulled in and out of the game. The 2017 NBA MVP said "no" but made it clear that he prefers to focus on playing basketball and play to the best of his ability.
"No. He hasn't. But I don't need him to be clear. He makes whatever decision he makes, and that's up to him. My job as a professional is to come to work, be in a positive mindset, put my head down and do my work to the best of my ability and be there to encourage my teammates. That's it," Westbrook stated.
Westbrook watched helplessly on the sidelines and was seen consoling LeBron James and Anthony Davis about the loss. It was the best he could do for now. However, it may somehow place added heat on Vogel, particularly his coaching prowess.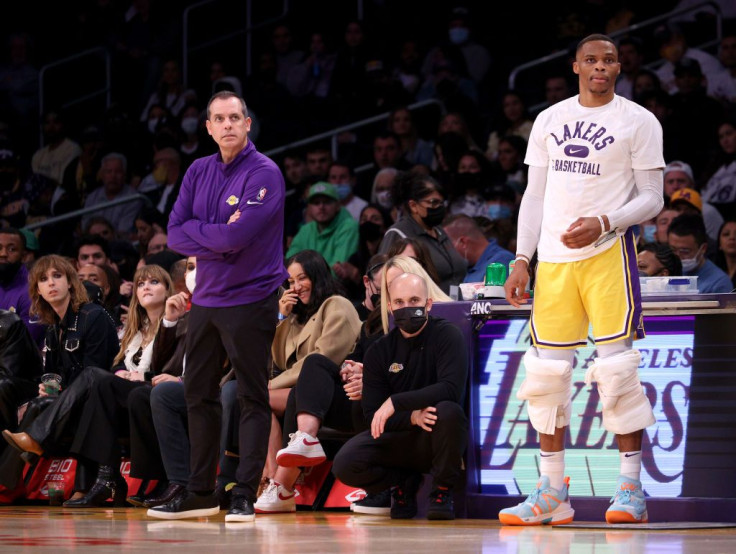 © 2023 Latin Times. All rights reserved. Do not reproduce without permission.