It was only a matter of time before Russell Westbrook would finally figure out his place on the Los Angeles Lakers. The first part of the 2021-22 NBA season was not especially kind to the former NBA MVP although it was understandable.
Compared to his previous stops, Westbrook was joining a special team. LeBron James and Anthony Davis are there and the 33-year-old needed to find a way to mesh with his fellow All-Stars. And it appears getting others involved was the best way to go initially.
The only problem with that is that Westbrook tends to overpass the ball rather than take charge. It is something that James and the rest of the Lakers want him to do.
To support that, Westbrook, through seven games in October, shot just 25% from three-point range and made 47.8% from the line while turning the ball over 5.1 times per game.
But as the Lakers moved along, the nine-time All-Star was gradually improving. This was overshadowed by the Lakers win-loss card and the injuries besieging the roster. All that has changed and now most hope Westbrook can sustain that moving forward.
"He's relentless in attacking the basket," coach Frank Vogel said. "How defenses guard him, they try to sag, and they try to get under, and he still finds a way. If he's touching the paint and making great decisions when he gets there, it gives us a lot of offensive support."
Most will see how difficult it would be for Westbrook especially if James is around. The 6-foot-3 guard had the chance to step up and take over for the Lakers but was hardly significant.
But with the numbers showing his progress, better days could be ahead. With the adjustment period slowly wrapping up, purple and gold fans are hoping that the worst is over.
With Westbrook, James and Davis firing on all cylinders, the Lakers may finally work their way back up the Western Conference. They may not be among the top teams now but the bigger prize is surviving the postseason wars and winning it all.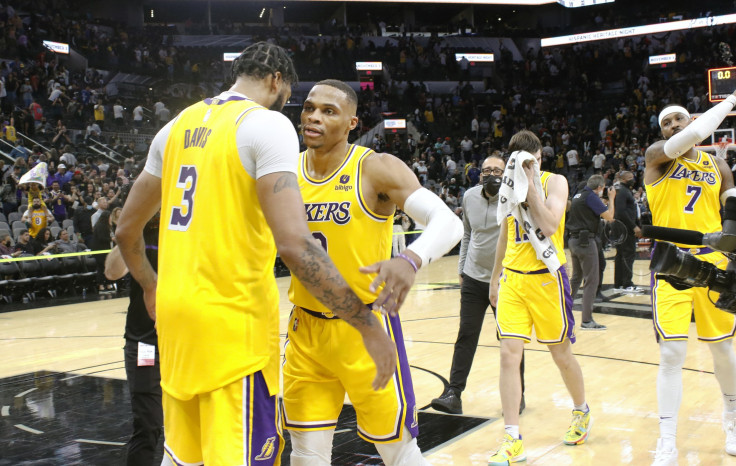 © 2023 Latin Times. All rights reserved. Do not reproduce without permission.