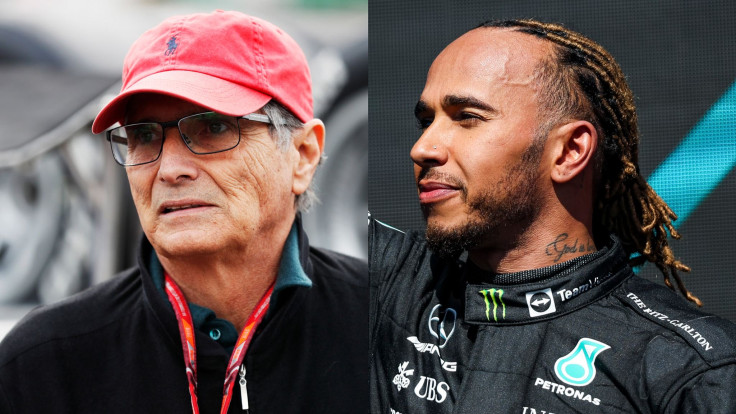 Nelson Piquet, a three-time Formula 1 world winner, was fined five million Brazilian Reals (£780,000) for comments he made about Lewis Hamilton that were racial and homophobic.
In a 2021 interview, the 70-year-old Brazilian referred Hamilton in a racially offensive way.
He referred to seven-time champion Hamilton as "neguinho," a racially offensive term which means "little Black guy," in 2021.
After the video surfaced, Hamilton urged for "archaic mindsets" to change.
Later, Piquet issued an apology for his "ill-thought-out" racial epithet about the British Mercedes racer.
The 2021 British Grand Prix accident involving Mercedes driver Lewis Hamilton and Red Bull driver Max Verstappen, who is the partner of Piquet's daughter, was denounced by Formula 1, Hamilton's Mercedes team, and the global motorsport governing body the FIA.
The word Piquet used "is one that has widely and historically been used colloquially in Brazilian Portuguese as a synonym for "guy" or "person" and was never intended to offend," he said, adding that he "made no defense" of the comments.
Piquet used racial and homophobic slurs in a different interview that subsequently came to light when discussing how Hamilton lost the 2016 championship to Nico Rosberg.
Hamilton, a seven-time world champion, is the only driver of color in the competition.
Four human rights organizations, including Brazil's National LGBT+ Alliance, filed the charges against Piquet and demanded that he pay 10 million Brazilian Reals in restitution for claimed moral harm.
"The Substitute Judge of the 20th Civil Court of Brasilia sentenced former Formula 1 driver Nelson Piquet Souto Maior to pay R$ 5 million in compensation for collective moral damages, to be allocated to funds for the promotion of racial equality and discrimination against the LGBTQIA+ community, due to the offenses made against current Formula 1 driver Lewis Hamilton," the court statement said.
Judge Pedro Matos de Arrudo of a Brazilian court said the amount of compensation was given "so that, as a society, we can someday be free from the pernicious acts that are racism and homophobia" in his Friday decision ordering him to pay five million Brazilian Reals ($953,000).
© 2023 Latin Times. All rights reserved. Do not reproduce without permission.